Book Blurb:
The Connelly boys are practically royalty at St. Andrew's Prep. Popular, wealthy, and devastatingly beautiful, the four brothers have long cast a spell over their classmates and over the sleepy seaport town of Rosalyn Bay, Ireland. There's just one problem: they're also cursed. ...Or so the rumors say. Seventeen-year-old newcomer Scarlet Monroe has never been one for rumors, but when she inadvertently banishes a demon while trying to help eldest brother Jack Connelly, the most breathtaking of the boys and the one to whom she feels inexplicably drawn, she quickly discovers there may be more to the local superstitions and folklore than she originally thought. Before long, the Connellys pull her into a dark and mysterious world filled with ancient magic, powerful spells, kidnapped souls, and deadly enemies. But none of it compares to Scarlet discovering the truth of who she really is...or what she'll have to become to defeat a rising evil older than humankind itself before she loses everyone she loves—that is, of course, if she can survive the world of the Connellys long enough. Don't miss this first installment in the new dark fantasy series by Lily Velez, which features Irish folklore, Celtic mythology, mystery and light romance, and an engrossing world of witches and magic that will keep you reading long into the night!
Find out more about the book on Goodreads and pick up a copy from Amazon
My Review
: 5 Out Of 5 Stars
Genre: Heart-Wrenching, Mystery, Romance, Supernatural, Suspense, Teen, Witches--
After suffering the loss of her Mom, Scarlet is sent to Ireland to live with her estranged father. To make matters worse, she now has to attend the elite boarding school her father works at, which just so happens to be all boys and the only school in the area. Scarlet is counting down the days until she can graduate from high school and move back to the states. But then she encounters the Connelly brothers, and everything changes.
This time, as I leaned against him, a tear did escape me, rolling slowly down my cheek. I was surprised by the show of emotion, but then, I had just nearly been killed by an extremist group mere days ago. I had just made a bargain with a demon I wasn't sure I could entirely trust. And the one thing that could bind the Reaper and help my dad continued to elude us, leaving everyone's morale at an all-time low. Throw in a spell of insomnia, and it was any wonder I wasn't outright bawling. I'd known people to have bigger outbursts just from missing a meal.
I seriously love this book. Really, everything about it appeals to me. Be it the fantastic strong female main character who has some terrible truths and experiences and just comes out even more determined and powerful- I may have wanted to butt in and hug her occasionally with the strong moments of sadness, but she held her own in every unknown situation. To the magical world with hidden libraries, crazy powers, Irish setting and history. Or the non-stop action with this rag-tag group facing one dangerous encounter after another be it with demons, the slaugh, witch hunters or an ultimate evil closer to home. And it doesn't hurt that the book package is very pretty with that cover!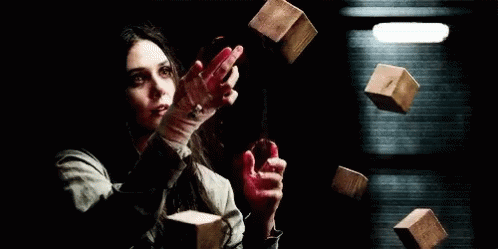 And last but not least, the boys. Sure Scarlet has herself four man-friend companions, but this is no way a reverse harem which I was very happy about. There was a slow burn, not sure anything would happen relationship with one brother (who took on too mush responsibility and saw the good in everyone regardless if he should). Another brother is a good friend (and my favorite!), one has some moderate hostility towards Scarlet (and maybe the world in general) and the last barely even acknowledges her presence (not out of any malice, just due to personality). The dynamic between the group as well as between Scarlet and each of the boys individually was perfection. I will admit that I spent a majority of the book (at 400 pages it was chock full of stuff) waiting for a certain romance to take place, but that in no way was the point of the story, and really I am ok with that since I had so many other great plot moments to get sucked into. This book was overall Scarlet's discover of what she is, what she is capable of and what she is willing to for those she loves. I can't wait to see what will happen next with Scarlet and her gang, but I feel really stressed for them since everything seems to have an expiration date and the clock is ticking...