Bahama Mama
Tricia Leedom
(The Key West Escape, #2)
Published by: Firefly Hill Press
Publication date: May 8th2018
Genres: Adult, Adventure, Romance
Perfect for fans of Susan Elizabeth Phillips and Janet Evanovich, this action-packed sequel to Rum Runner from a fresh voice in contemporary romance offers a sexy andcomedic take on love, adventure, and what it means to trust your heart.

Troubles are piling up for Molly MacBain. Between navigating the moods of an increasingly sassy teenage daughter, grappling with money problems, and dealing with her daughter's deadbeat dad, Molly doesn't need any more stress in her life. Her best friend's wedding should be a welcome chance to relax, but Molly's dismayed to discover her friend's new brother-in-law is her idol—country music superstar Anders Ostergaard. After spending years on the country music circuit herself, Molly can't help but have a fangirl moment when she meets Anders in real life. Anders flies to Key West to attend his brother's wedding and keep a low profile after a Vegas tragedy plasters his face to the cover of every tabloid. He has strict rules about getting involved with fans, but with her sharp wit and refreshing openness, Molly draws him in like no one has before, even as the shadow of his recent scandal stalks closer. Their flirtation is put on hold when Molly's daughter witnesses a murder and winds up in Jamaica. Anders offers Molly his private plane, and together they race for Montego Bay, dodging the hit man who's hell-bent on eliminating everyone who knows of his crimes. When danger and proximity spark a blazing romance, Molly can't help wondering about the future. Can a fan and her idol build a lasting love? Or is their relationship just a fling fueled by the sultry Caribbean breeze? And most importantly—can she survive long enough to find out?
Goodreads / Amazon / Barnes & Noble / iBooks / Kobo
Read my 5 star review of Rum Runner HERE---
My Review:
5 Out Of 5 Stars
Genre: Hysterical, Mystery, Romance, Suspense--
Country Music idol Anders has had a rough few months, what with his rock-climbing accident followed by a terrible scandal, and now he is on a forced vacation just in time to attend his brother's wedding. Molly is struggling to make ends meet with her bookstore and few odd singing jobs, her primary concern her teen daughter and not the dating website her daughter forced her to join. When Molly finds out her best friend's fiance is brother to her celebrity crush Anders, she is terrified she will make a fool of herself- again. But soon she finds there is something much worse than being embarrassed, and it is life or death. Rum Runner was one of my absolute favorite reads last last so I have been pretty much counting down the days until I would be able to get my hands on more in this world as well as by this series. When I discovered that the next book would feature one of my favorite side characters Molly, a spunky ball of energy and resilience I was so excited. And she is paired up with her celebrity crush, Country singer Anders (aka Jimmy's older brother)- yep, I knew that this was going to be another fun, wild, sexy ride that there was no way I was going to miss this.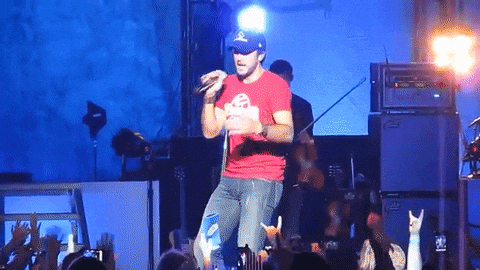 Molly I already loved from Rum Runner so I did not need to get to know her and weigh if I liked her, but Anders was another story. The story starts from his point of view, the first time we really meet him, and he is in the middle of a 5 day no-strings-attached hook-up with a young starlet who ends up being poisoned to death in his hotel room and then his young son on his doorstep who he has no relationship with. Yeah, we started off on the wrong foot and he needed to do some redeeming to be worthy of Molly. But man, did he do some redeeming! I loved the dynamic between the character, the attraction practically sizzling off them. And the way they love their kids fiercely was endearing. Tricia has a magical way of wrapping me up in her books, so time and real life mean nothing. I can easily sit still (which, let me tell you, is a real feat for me!) for hours, lost in these stories, completely wrapped up in the world, adventure and characters that Tricia brings to life. Honestly, no matter what is going on in the real world for me, I can escape into theses fun, dangerous, mysterious adventures and everything else falls away. And I was a little hesitant that I would be let down since my expectations were so very, incredibly, unreasonable high, but Tricia hit it out of the park. Again! Yep, I am a total fan girl now and it has been confirmed that I will read whatever she wants to create- but I do wish for more of this, with the steamy-steam and the exhilarating action. Ooh, and the fact there are so many mystery aspects to keep you on your toes, lots of suspicious characters lurking about, I had so many suspects I did not know who was the guiltiest, and I loved it. The plot is so unique, and Tricia's ability to create such dangerous, high stress situations and mix in the right balance of humor hits all my happy buttons- I personally love a story with heart and humor, and this has both. The romance is swoon worthy, but the mystery and action keeps me turning the pages and forcing everyone I know to read the book (as good friends do!).
Technically this is the second book in the series, and everything does connect and expand on the first book Rum Runner, but the overall mystery and the romance are independent. So yes, this could be read as a standalone romantic adventure, but where would the fun in that be? I highly recommend reading the Key West Escape series in order- and then again, and again until another book falls from the sky and into my hands. Pick up this series, just don't expect to be able to adult until you finish. It is well worth it! I am voluntarily reviewing an advance, complimentary copy of this book.
Author Bio:

Tricia Leedom writes romantic adventure novels with a sense of humor. She earnedher BA in Creative Writing from the The University of Tampa and her MFA in Writing Popular Fiction from Seton Hill University. Tricia enjoys funny hashtags, cheap airfare, and fangirling over a TV show based on her favorite book series. She lives in SouthwestFlorida.
GIVEAWAY!a Rafflecopter giveaway