The Thirteenth Gate
Kat Ross
(Dominion Mysteries #2)
Published by: Acorn Publishing
Publication date: June 26th 2017
Genres: Historical, Mystery, YoungAdult
Winter 1888. At an asylum in the English countryside, a man suspected of being Jack the Ripper kills an orderly and flees into therain-soaked night. His distraught keepers summon the Lady Vivienne Cumberland—who's interviewed their patient and isn't sure he's a man at all. An enigmatic woman who guards her own secrets closely, Lady Vivienne knows a creature from the underworld when she sees one. And he's the most dangerous she's ever encountered.

As Jack rampages through London, Lady Vivienne begins to suspect what he's searching for. And if he finds it, the doors to purgatory will be thrown wide open…

Across the Atlantic, an archaeologist is brutally murdered after a Christmas Eve gala at the American Museum of Natural History. Certain peculiar aspects of the crime attract the interest of the Society for Psychical Research and its newest investigator, Harrison Fearing Pell. Is Dr. Sabelline's death related to his recent dig in Alexandria? Oris the motive something darker?

As Harry uncovers troubling connections to a serial murder case she'd believed wasdefinitively solved, two mysteries converge amid the grit and glamor of Gilded Age New York. Harry and Lady Vivienne must join forces to stop an ancient evil. The key is something called the Thirteenth Gate. But where is it? And more importantly, who will find it first?
Goodreads / Amazon / Barnes & Noble / iBooks / Kobo
My Review:
4 Out Of 5 Stars
Genre: Another-World, Historical, Mystery, Supernatural, Suspense--
I love anything having to do with the Jack the Ripper case, the allure of the most mysterious case of all time, full of rumors and horror but no actual answers, ever. It is the original unsolved mystery. I had read the first book in the series and enjoyed it so I wanted to continue on, but then when I learned that Jack the Ripper was the mystery, I knew that I had to know more. I loved the blend of mystery with the paranormal that Kat uses, mixing the supernatural elements with the murder and mayhem just like it was meant to be there. The first book was a YA story with a human teen girl bumbling her way through a mystery much bigger than her that ended up being supernatural. But this book I would not call a YA at all regardless of it's Goodreads classifications, instead I would classify it as a supernatural historical mystery based on the content of the story as well as the characters.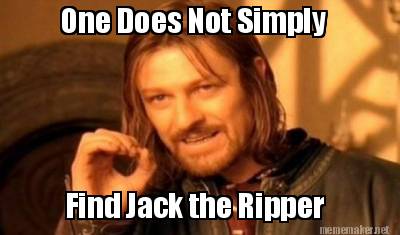 Unlike the first book, which was basically narrated by Harrison, a very human girl who wanted nothing more than to follow in her sister's footsteps and solve a mystery to prove her worth and get justice for those who needed it, this story has some new perspectives added. As a side note, I absolutely love Harrison and her cast of merry friends, especially John (I heart him!). This book was broken down into three parts, with new main characters added, and they actually played a larger part in this story than Harrison did. We meet Vivienne and Alec, a human/Daeva pair who has been supernaturally bonded, allowing them to live for centuries to fight against evil. They are part of the secret police force in England that specializes in destroying ghouls and hunting the unknown. I thought they were interesting characters, Alec an elemental witch-like creature who tied his life-force to human Vivienne, causing him a physical injury and the binding of his powers. They were interesting character, but there were so many questions I had as to their backgrounds.
Kat was able to create a balanced level of horror, suspense, mystery and creepy that kept me engaged and on the edge of my seat, jumping at shadows and expecting the worst. Book one was a new take on Jeykl and Hyde, this book was Jack the Ripper, and now I am ever so interested to see what Kat will use for a topic for the next book. And I would not mind learning more about Balthazar... I did appreciate the afterward by the author where she mentioned Alec and Vivienne and learning more about their backstory (which I was crazy curious about!) in another book series she has previously written, which I now need to go and get. I really enjoyed this spooky adventure, full of twisty unexpected turns and I highly recommend it to anyone who wants some supernatural elements in their historical mysteries. I received this title in return for my honest review. Author Bio:

Kat Ross worked as a journalist at the United Nations for ten years before happily falling back into what she likes best: making stuff up. She lives in Westchester with her kid and a few sleepy cats. Kat is also the author of the dystopian thriller Some Fine Day (Skyscape, 2014), about a world where the sea levels have risen sixty meters. She loves magic, monsters and doomsday scenarios. Preferably with mutants.
GIVEAWAY!
a Rafflecopter giveaway