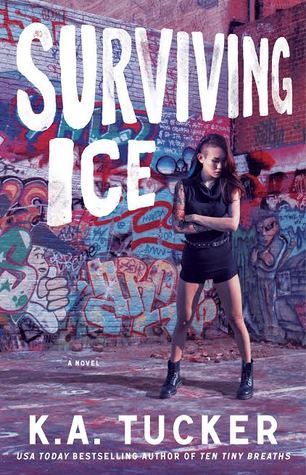 Book Blurb:
Ivy, a talented tattoo artist who spent the early part of her twenties on the move, is finally looking for a place to call home. She thinks she might have found it in San Francisco, but all that changes when she witnesses a terrible crime. She's ready to pack up her things yet again, when a random encounter with a stranger keeps her in the city, giving her reason to stay after all. That is, until Ivy discovers that their encounter wasn't random. Not at all…
My Review:
5 Out Of 5 Stars
Genre: New Adult, Mystery--
Ivy lives a transitory life, always on the move from place to place, never settling down anywhere and playing by her own rules. She has been in San Francisco longer than anywhere else, almost considering it home thanks to her beloved uncle whom she is staying. When her uncle is murdered right in front of Ivy, she feels like her world is unraveling. An appealing stranger shows up at the tattoo shop she has now inherited, who forces himself into her life. Ivy wants to solve her uncle's murder, yet at the same time someone wants to stop her. Every book that I have read in this series I have enjoyed more than the last, making this my favorite out of the 4. Each story has been about a different character, but they are all intertwined in some way, introducing the next books main character as a side character in the current book. This is my 7th K.A. Tucker book overall, and let me tell you, I am a complete fan. She has the ability to craft complex, flawed characters that seem so real. You root for them regardless of what misdeeds or actual criminal acts they participate in, and I think that is talent. The plots are well developed with big emotional upheavals and realistic conclusions that may not be a complete happily ever after but more of a "let's play this by ear" kind of situation. I actually think that even though this book dealt with dark topics like murder, rape, torture, lies and betrayal, it had the happiest ending in my opinion. I liked Ivy in the last book, where she is described as a tough yet loyal character that marches to her own drum. All that is confirmed in this book, and then some. The reasoning behind how Ivy turned out so prickly is explained. But I also like how Ivy develops here, though. Sure she is prickly, but she also can be sweet and kind as well as sensitive, things that were never hinted at before. I love her random friendships with the most odd assortment of characters who she accepts no matter what. Sebastion was an intriguing mix of protective, honorable, impersonal, closed off and hot. I liked his character almost from his introduction where he refuses to pay his hooker's pimp extra money. Seems like he would be a sleeze, right? Yet, he is not, just a very lonely guy who wants to be needed and serve a purpose. His life ends up crashing around him when truths are revealed, but he is able to cope as long as Ivy is safe. He is a swoon worthy hero in my eyes, and I loved the dynamic between the two and how they learned to be themselves together. I really enjoyed the book and had a hard time putting it down. I know this is the end of this series but I would love to have a book about Dakota to see where she ends up. I can't wait for more KA Tucker books. I received this title from the publisher in return for my honest review.