We Are The Ghosts
Vicky Skinner
Published by: Swoon Reads
Publication date: August 13th 2019
Genres: Contemporary, Young Adult
After her estranged brother suddenly dies, a girl embarks on a road trip to rediscover who her brother really was in Vicky Skinner's contemporary YA novel, We Are the Ghosts.

When Ellie's estranged brother, Luke, dies in a car accident, she's not sure whether to be devastated that she lost the person who was once her best friend or enraged, still, that he left without a word a year ago. Now, the only people who seem to understand what she's going through are Luke's best friend and his ex-girlfriend, who she bonds with over their desire to figure out where Luke went when he walked out of their lives.

As she gets closer to them, and closer to Cade, a boy who seems determined to get to know her better, she realizes that she's not the only one with reasons to be angry at Luke. And when Ellie makes a discovery that changes everything, she and her new friends hit the road, hoping that following Luke's trail will bring them answers about the life Luke was living away from them.
Goodreads / Amazon / Barnes & Noble / iBooks / Kobo
My Review:
3.5 Out Of 5 Stars
Genre: Heart-Wrenching, Mystery, Teen--
I had read the synopsis for this title months ago and it peaked my interest to read the book but to be perfectly honest, when I sat down to actually read the book it was basically like going into the book with a blank slate. I did not remember what the story was about and I had not read any reviews so I had an open mind starting this tale. And I was super surprised by had sad and despondent the story made me feel. Vicky is skilled and making her character's emotions become real and tangible to the reader, I felt everything that Ellie did and it was rough (for both of us, I think). Ellie has spent the last year disconnected from her life, mourning her brother's presence in her life until his very real death makes her unsure how to mourn him for real. She has pushed everyone away from her, her few friends and potential crush ignored, she doesn't speak to her parents and just goes through the emotions of existing. At the start of the book, this was one sad, messed up girl. Luke was the light in her life, her best friend, her social medium to school and her life overall- and once he was gone she was hurt, sad, and broken. Where this may have been a road trip, it was overall a trip of discovery. Ellie learned some hard truths about the person she idolized as well as some truths about herself and those she pushed away. I loved that even though her actual family may have fallen apart, she created a strong made family that had her back regardless of how she acted. Let me take a second and just throw out my love for Cade- he was so dreamy. No this was not a romance, but there was a slow burning romance here with the best of guys. He deserves a medal for his patience and amazing random facts. We Are The Ghosts was an emotional ride about learning hard truths and finding how to live again after dealing with trauma and grief. I recommend this for anyone who loves YA contemporary books that have a slow moving plot but instead focus mainly on an in depth look at the characters, making the reader connect to them and understand them. I will for certain check out more books by Vicky in the future.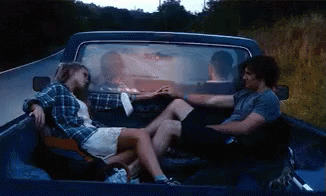 Author Bio:

Born and raised in Texas, I don't act like much of a Texan. I like cold weather and hate country music. I have a gorgeous husband, two dogs, and a Literature degree from the University of Texas at Dallas. If I'm not at home reading a book or doing laundry, I'm probably at the bookstore, nannying three rambunctious boys, or stuck on the side of the road with car trouble. I'm a reader, a writer, and a bit of a crazy person.
GIVEAWAY!
a Rafflecopter giveaway