Author: Gail Z. Martin
Narrator: Therese Plummer
Length: 8 hours 26 minutes
Series: Deadly Curiosities, Book 3
Publisher: Tantor Audio
Released: August 21, 2018
Genre: Paranorma Fantasy


Cassidy Kincaide runs Trifles & Folly in modern-day Charleston, an antiques and curios shop with a dangerous secret. Cassidy can read the history of objects by touching them, and along with her business partners Teag, who has Weaver magic, and Sorren, a 600-year-old vampire, they get rid of cursed objects and keep Charleston and the world safe from supernatural threats. When zombies rise in Charleston cemeteries, dead men fall from the sky, and the whole city succumbs to the "grouch flu", Cassidy, Teag, and Sorren suspect a vengeful dark witch who is gunning for Teag and planning to unleash an ancient horror. Cassidy, Teag, and Sorren - and all their supernatural allies - will need magic, cunning, and the help of a Viking demigoddess to survive the battle with a malicious Weaver-witch and an ancient Norse warlock to keep Charleston - and the whole East Coast - from becoming the prey of the Master of the Hunt.




My Review: 4 Out Of 5 Stars
Genre: Ghosts, Mystery, Scary, Supernatural, Suspense, Urban Fantasy, Vampires, Witches, Zombies-- I knew going into this audiobook that this was book 3 in a series, but I read a bunch of reviews on Goodreads that stated that while this is the third book in a continuous series, it could be read as a standalone. Well, since I had been wanting to read this series for a while and I had previously read a book by Gail in a different series that I really enjoyed, I figured that I would go ahead and give this a shot. I think overall that this worked without having had any backstory since the mystery aspect of the book was new and the relationship dynamics and world building were briefly touched on at the start of the book. That being said, I would love to now go back and read the first two books and fill in any missing pieces that I did not pick up here. I would very much so call this a paranormal mystery that had a ton of magic, action and mayhem thrown in for flavor. The rag-tag group of paranormals, led by Cassidy (the narrator) and Teag, her best friend/body-guard/weaver (who as per the author is pictured on the cover), have to face down hauntings, possessed and cursed items, battle zombies, solve a mystery years in the making, and run their antiques shop in the midst or rushes and crazy customers- which makes the book just as action packed and non-stop as that sounds. As the reader, I got to be sucked into this little slice of haunted southern charm right along with Cassidy, finding clues and stopping the mayhem as best she could. And boy that girl was resilient. The narrator spoke with a southern accent (I have no idea if it is her actual accent of not) and was able to give Cassidy the voice that best suited her character and charm, really making me feel submerged in the culture as if I was there. There was an occasional moment in the audio where it seemed like the voice was echoing back when the narrator was speaking, but it was mild and did not distract from the story at all. Once again Gail was able to create a new kind of story that I very much enjoyed, full of mayhem and danger with some pretty scary moments and gore. I enjoy her writing style and I feel like the reader is just thrown into the story, which can be stressful and exhilarating. I most certainly will read and or listen to the rest of the books in this series as well as any of Gail's books in the future. This was the perfect read for supernatural mystery fans such as those who enjoy the Victoria Laurie series and those who love the urban fantasy feel of the Cassie Blake series. I received this audiobook as part of my participation in a blog tour with Audiobookworm Promotions. The tour is being sponsored by Gail Z. Martin. The gifting of this audiobook did not affect my opinion of it.

Gail Z. Martin writes urban fantasy, epic fantasy and steampunk for Solaris Books, Orbit Books, Falstaff Books, SOL Publishing and Darkwind Press. Urban fantasy series include Deadly Curiosities and the Night Vigil (Sons of Darkness). Epic fantasy series include Darkhurst, the Chronicles Of The Necromancer, the Fallen Kings Cycle, the Ascendant Kingdoms Saga, and the Assassins of Landria. Together with Larry N. Martin, she is the co-author of Iron & Blood, Storm & Fury (both Steampunk/alternate history), and the Spells Salt and Steel comedic horror series. Newest titles include Tangled Web, Vengeance, The Dark Road, and Assassin's Honor. As Morgan Brice, she writes urban fantasy MM paranormal romance, with her Witchbane and Badlands series.

Giveaway: 1-month Audible Subscription
Tangled Web Giveaway: 1-month Audible subscription

Aug. 4th:
The Book Junkie Reads . . .
Smada's Book Smack
Viviana MacKade
Aug. 5th:
Locks, Hooks and Books
All the Ups and Downs
Stressed Rach
Notes from 'Round the Bend
Aug. 6th:
Making it Happen
T's Stuff
Aug. 7th:
Dab of Darkness Book Reviews
Readeropolis
Nesie's Place
Aug. 8th:
Valerie Ullmer | Romance Author
The Book Addict's Reviews
Lynn's Romance Enthusiasm
Aug. 9th:
My Creatively Random Life
Guilty Indulgence Bookclub
Aug. 10th:
Momma Says To Read or Not to Read
My World...in Words and Pages
Teatime and Books
Jazzy Book Reviews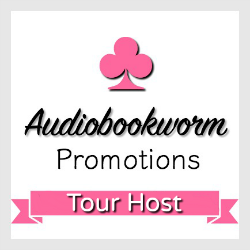 ➜Sign up as a host here