Silver Hollow
Jennifer Silverwood
(Borderlands Saga #1)
Publication date: May 31st 2018
Genres: Adult, Contemporary, Fairy Tales, Fantasy
"I shouldn't have to tell you this isn't a fairy story…"

After her parents' car crash ten years before, Amie Wentworth trusts books more than people. She may be a writer, but she believes in reality over fiction. She ignores the unexplained mysteries surrounding her, never mind the dreams of a past life, or the fact she can fry technology with a touch. Not even a timely invitation from her long-lost uncle in England gives Amie incentive for anything other than ire.

Until she is stabbed in an alley and brought back to life by a handsome stranger. Soon Amie is dragged into the very sort of tale she is used to selling. To make matters worse, the man who saved her life keeps turning up and her would-be-murderer is still at large.

After crossing the Atlantic to her father's homeland, she discovers a world beyond imagining. Silver Hollow is a place of ancient traditions and supernatural dangers, where everything is the opposite of what it seems and few escape sane. Faced with an impossible choice, Amie is forced to confront a deadly family legacy while remembering a life she soon wishes to forget.

**Previously published in 2012. This NEW EDITION has been FULLY REVISED AND EXPANDED. The original novel is now no longer available.**
Goodreads / Amazon / Barnes & Noble / iBooks / Kobo
My Review:
3.5 Out Of 5 Stars
Genre: Another-World, Faeries, Historical, Mystery, Royal-Court, Supernatural--
Amie has been living her life as well as she can these last ten years after her parents deaths, but really she has not been living at all. When an uncle she has never met before reaches out to her and requests she come to her family home in England, she is curious enough to go. What she finds is not what she expected, but instead she is at a house that resembles a castle with random strangers that seem just a little off and an overly enthusiastic uncle who wants to teach her about the "family business". Amie goes along with all the crazy, hoping to get answers to her past but never expecting the truth. I love any and all things having to do with faeries and the Fey, so when I read the synopsis for Silver Hollow I was 100% intrigued to read this book and get lost in the adventure. I found this book to be completely different and new, unlike any other faery book I have previously encountered. This was a magical discovery while at the same time a dangerous mission all rolled into one...And it doesn't hurt that the cover is absolutely gorgeous, which is my weakness when it comes to books. My favorite part of Silver Hollow was all the magic, everywhere and used for everything. Be it the costuming and traveling devices that felt very out of place for the modern world, all the secrets everyone had (minus Amie who was basically an open book), the creatures that were hinted at but not always around, to the world that her uncle protected. I liked that basically every and anything could be seen as magic in one way or another and everything was a surprise. Not to be spoilery, but it was like a magical hotel/castle for the magically inclined, which I loved. The names of people and creatures though at times felt like tongue twisters, though, and I am sure that I butchered the pronunciations while reading.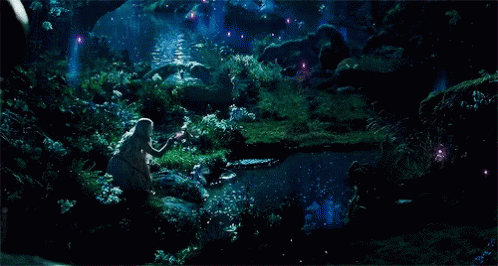 The one thing that I was not a fan of for the story was how confusing everything seemed. Keep in mind, the main character Amie has no idea what is going on so none of the supernatural/magical elements made any sense (to me or to the character). The world building was still going on, even while I had no idea what the plot or the purpose was for anything. Amie is thrust into her old family home that is filled with strangers and secrets that she has never learned, and her uncle is grooming her for a role in the family- but to do what, she does not know. And she is perfectly fine going along with all of it, regardless of the fact nothing makes sense and that she believes her uncle is crazy. Yeah, so I was in over my head because while Amie had no questions or qualms with the situation, I had a LOT- and they were not really answered, or at least not in a timely manner I was hoping for. I just felt like I was missing so much and I spent at least half the book confused as to what was going on and not sure if I cared one way or another to find out. Keep in mind, this is most likely done on purpose by Jennifer, but I am just not a fan of that kind of writing style- but I am sure others will love it. Silver Hollow is the first in a series where an epic battle is coming for Amie, one she will hopefully be ready for, if she can just open her eyes...
Author Bio:

Jennifer Silverwood was raised deep in the heart of Texas and has been spinning yarns a mile high since childhood. In her spare time, she reads and writes and tries to sustain her wanderlust, whether it's the Carpathian Mountains in Transylvania, the highlands of Ecuador, or a road trip to the next town. Always on the lookout for her next adventure, in print or reality, she dreams of one day proving to the masses that everything really is better in Texas. She is the author of three series--Heaven's Edge, Wylder Tales and the Borderlands Saga--and the stand-alone titles Stay and She Walks in Moonlight. She released her first serialized Urban Fantasy, Angel Blue in August 2018.
GIVEAWAY!
a Rafflecopter giveaway