Match Me If You Can
Tiana Smith
Published by: Swoon Reads
Publication date: January 8th 2019
Genres: Contemporary, Romance, Young Adult
Mia's best friend Robyn is known for her matchmaking skills, which is perfect, because homecoming is just around the corner. But Robyn refuses to set Mia up with the guy of her dreams, which forces Mia to take matters into her own hands. She uses Robyn's matchmaking service to make sure popular Vince Demetrius falls for her.

Vince asks her out, but Mia doesn't count on Logan, the persistent school newspaper photographer who seems to like her out of the blue. Now she has to choose between Vince – the guy she knows is right for her – and Logan, who insists that she give him a chance. And she needs to make sure Robyn doesn't find out that Mia's been matchmaking behind her back.

Mia has two weeks before homecoming. Can she fix the mess she made or will she have to kiss her perfect match goodbye forever?
Goodreads / Amazon / Barnes & Noble / iBooks / Kobo
------- -------
My Review:
5 Out Of 5 Stars
Genre: Romance, Teen--
Mia needs a date for the Homecoming dance, STAT. But her bestie Robyn is refusing to play match maker for her with her dream boy Vince, even everyone else in school uses her services. Instead, Robyn insists that loner and Mia's bane Logan is a better fit for Mia, much to Mia's horror. After making a public fool of herself, Mia is desperate- desperate enough to betray Robyn and take matters into her own hands. This was the cute read I was hoping for. When I first started, I was slightly hesitant since it seemed like I had encountered multiple books recently with a very similar plot. But then "things" happened and surprising plot twists made this into a unique read. It also doesn't hurt that the characters feel real, entertaining and quirky, like people I would be friends with.
"He asked you to homecoming, Mia. That doesn't mean you're dating," Logan said. "I can't have you think some jock is the perfect example of romantic-ness." "That's not a word," I said. "You see, if you want to woo someone, you have to know the best way to go about it." "' Woo someone'? What is this, the fifteen hundreds?" ...I was out of options. Apparently I was going to be wooed whether I liked it or not.
We have two sort of love interests in the book- Vince and Logan. Vince seems nice enough, but he is more an idea or expectation then a real person to Mia- the unattainable fantasy. And then we have Logan. I loved everything about Logan, from his lack of embarrassment, his chill attitude and perspective, laid back appearance and overall the banter between him and Mia. I wanted to scream at Mia to just see Logan as a boy, not her nemesis, but that folks is how plot works.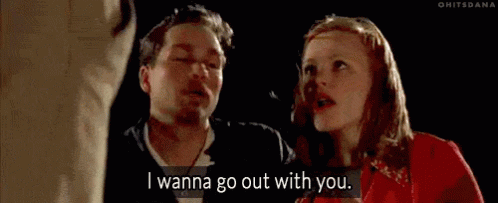 "You're my favorite," he said. His breath tickled my cheek, and I looked up to see his chocolate eyes soaking me in. "Your favorite what?" I asked. "Everything. You're my favorite everything."
Hands down, this is my absolute favorite quote/scene from the book, it was just so swoony and perfect it is hard not to just melt into a puddle right now thinking about it. I had such a hard time picking just a few quotes to share in my review because I found so many of the interactions and banter to be cute, sweet or hysterical. This was the perfect mix of cute, sweet, swoony, funny, and teen drama that I really love in my YA contemporaries. I can't believe that this is Tiana's debut novel because it was so well written, personable, engaging and just about everything I could have asked for in a book. I can't wait to see what she will write next! This also happens to be my book club's pick for February (because you need love in your books for Valentines Day!) and I am excited to share my love of Match Me If You Can with my book friends.
-----------------------------------------
Author Bio:

Tiana Smith is a copywriter turned novelist who grew up in the Wild West of Montana. When she isn't writing, she's chasing after her ninja boy, reading, or binging the Disney Channel. She'd love to be fluent in sign language, but for now she gets by with awkward hand gestures and even more awkward French. She has double degrees in Honors and English from Westminster College but wants to go back to school to be a lion tamer.
GIVEAWAY!
a Rafflecopter giveaway