Three Mages and a Margarita
Annette Marie
(The Guild Codex: Spellbound #1)
Publication date: September 14th 2018
Genres: New Adult, Urban Fantasy
Broke, almost homeless, and recently fired. Those are my official reasons for answering a wanted ad for a skeevy-looking bartender gig.

It went downhill the moment they asked me to do a trial shift instead of an interview—to see if I'd mesh with their "special" clientele. I think that part went great. Their customers were complete dickheads, and I was an asshole right back. That's the definition of fitting in, right?

I expected to get thrown out on my ass. Instead, they…offered me the job?

It turns out this place isn't a bar. It's aguild. And the three cocky guys I drenched with a margarita during my trial? Yeah, they were mages. Either I'm exactly the kind of takes-no-shit bartender this guild needs, or there's a good reason no one else wants to work here.

So what's a broke girl to do? Take the job, of course—with a pay raise.

—
Note: The three mages are definitely sexy, but this series isn't a reverse harem. It's 100% fun, sassy, fast-paced urban fantasy.
My Review:
5 Out Of 5 Stars
Genre: Mystery, Supernatural, Suspense, Urban Fantasy, Witches--
"Keeping a job involves a few simple rules: Arrive on time. Work hard. And don't assault customers."
Well, Tori is having a hard time following those rules- as seen by the fact she has just been fired. Again. Desperate for work, yet apparently blacklisted from all waitress jobs due to her reputation for being fiery, Tori finds herself interviewing for a bartender position at the Crow and Hammer. Tori has almost no experience bartending but figures she can wing it, what's the worst that can happen? That is the perfect question for the only human who happens to find herself in a bar owned by a magical guild.
"When you're a hammer, Everything's a nail!"
I am a huge sucker for anything Annette writes- seriously, I am madly in love with her three previous series and at this point I will read whatever she wants to come up with. But the synopsis for this, the first book in the Guild Codes series really stood out to me and I loved the cover (it is so bright and colorful and appeals to my inner love of everything shiny!) so of course I wanted to read it! I did enjoy the multiple disclaimers from Annette about this not being a romance or a reverse harem (which happens to be one of my new obsessions) just one girl and three male friends in an interesting urban fantasy series. All 100% true- this was such a cool world, fun relationship dynamics, witty banter and snark, and a great action/mystery underlying plot. I was hooked from the first chapter of meeting the mess that was Tori and I could not put the book down until it ended.
"Guild rule number one: Don't hit first. But always hit back."
Tori is our main character, a human who inadvertently finds herself in over her head in a new job at a supernatural bar/guild. She knows nothing about this world, yet her innate personality refuses to let her back down to pretty much anything and her role with the punches attitude makes bar tending a success. I liked Tori's spunk and the fact she does not give in, ever. Add in her impulsive bravery (I mean an umbrella is not the first choice in weapons when it comes to a supernatural brawl, but whatever) when she is so outmatched. She was the perfect protagonist and I rooted her on.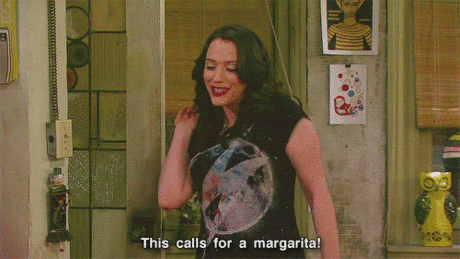 I really enjoyed meeting "the guys"- the three mages that seem to gravitate towards Tori. There is outgoing, boisterous and fun Aaron who controls fire. Electricity controlling manwhore Kai who has women throwing themselves at him at every chance. And scarred, reserved, calming Ezra who controls the air. The three are the best of friends, you can see the bond between them so easily from their banter to their bounty hunting. In this book we got to know Aaron the best and touch a little on Ezra, but Kai is still very unknown. I would love to learn more about all three in the next book. There was an interesting dynamic between the guys and Tori- part attraction, part big brother, part friend, part comrade- there was a little bit of everything rolled into the mix which completely intrigued me.
"Guild rule number two: Don't get caught. Can't get in trouble if you don't get caught."
I liked that while Tori was a human with no gifts, the guys did not underestimate her- she was their equal, they even end up teasing Aaron that he needs to have Tori as his bodyguard. And yes, this was not even a little bit of a romance...but I did spend a fair amount of time determining who I think Tori should end up with... and I do not have an answer! I liked them all in different ways and just will attempt to patiently wait for more books in the series to see if anything progresses. To be fair, I would be ok if there was no romance at all just the same dynamic as now.
"Good thing I wasn't a mythic. Just a bartender. For a guild. Of mythics. Okay, it was a fine line, but whatever."
I really loved this book and would not change a single thing. Three Mages and a Margarita was so much fun to read and took me out of the reading slump I have been stuck in recently! It was really nice too that this could potentially be a standalone book since the main mystery and conflict was resolved within the pages. But don't you worry, with this cast of characters it is only a matter of time until they get into more mischief to come. That being said, can I pretty please have book 2 now??
Author Bio:

Annette Marie is the author of Amazon best-selling YA urban fantasy series Steel & Stone, its prequel trilogy Spell Weaver, and romantic fantasy trilogy Red Winter. Her first love is fantasy, but fast-paced adventures and tantalizing forbidden romances are her guilty pleasures. She lives in the frozen winter wasteland of Alberta, Canada (okay, it's not quite that bad) with her husband and their furry minion of darkness—sorry, cat—Caesar. When not writing, she can be found elbow-deep in one art project or another while blissfully ignoring all adult responsibilities.
GIVEAWAY!
a Rafflecopter giveaway