Author: Maureen A. Miller
Narrator: Brandy Skelly
Length: 8 hours and 12 minutes
Series: Beneath, Book 1
Publisher: Maureen A. Miller
Released: Aug. 17, 2018
Genre: Fantasy; Young Adult


From USA Today best-selling author Maureen A. Miller comes this young adult adventure that will plunge you deep into the Atlantic Ocean. It was Stella Gullaksen's final break before starting her freshman year at college. Joining her best friend Jill and Jill's family aboard the Starkissed, Stella wakes up to a violent storm that capsizes the boat over a hundred miles off the New Jersey shore. As the waves pull her under, Stella knows that she is going to die. Instead, an unusual current drags her deep into the underwater canyons of the Atlantic Ocean. Powerless against the raging waters, she is suddenly sucked into a ventilated cave. One by one, Jill and her family also emerge in the sunken cavern. With only a faulty diving flashlight to keep oblivion at bay, Stella and her best friend's brother Colin search the cave in hope of finding a way back to the surface. What they discover, however, is that they are not alone. There are other survivors in this subterranean grotto - survivors spanning decades of maritime disasters. Will this discovery prove salvation, or have they all been condemned to the same fate? A grim finale at the bottom of the sea? On an alliance forged by friendship and attraction, Stella and Colin battle to escape the danger that lies beneath.






My Review:
4 Out Of 5 Stars
Genre: Another-World, Mystery, Romance, Survival, Suspense, Teen--
Stella enjoys her trips out with her best friend Jill and her family on their fishing boat, but when Jill finds herself thrown overboard during a freak storm, she is convinced that she is going to die. But instead of drowning, she finds herself alive and in a strange dark cave. Luckily she is not alone, and with the help of Jill's older brother Colin, Stella tries to figure out why they are not dead and what is really going on.
I have out at least three of Maureen's books on my to-read list on Goodreads and I think I own at least one but I had not read one yet so I was really interested in reading Beneath, due to the author as well as the intriguing synopsis. It doesn't hurt that the cover is pretty too, just saying. This is now actually my second time reading the book, but this time I listened to it on audio and I am so pumped to continue on with the story. This second listen just reinforced for me that I am really curious about the mysteries that lay beneath the ocean and I need more (ok, disclaimer, I am not known for my patience.) The narrator did a nice job of bringing Stella to life and giving her a personality, making me like listening to the book even more enjoyable than I found reading the book. What a cool concept for a book, just the idea of this world hidden beneath the ocean, a complete secret that people have been inadvertently making their home out of since options are limited. It is also a really scary idea too- which is just barely hinted at with the seeming supernatural element. I also really enjoyed that the premise for this book was very realistic, something so extreme but potentially possible in the unknown of the underwater world. Oh and by the way, I find the depths of the ocean freaky so a hidden "cave" system that traps people totally seems legit. Fear the ocean! When pretty much everyone fell apart, due to stress/injury/attitude, Stella was able to keep her calm and put on her investigative journalist hat and get to the bottom of the secrets. And what secrets they were. I pretty much instantly liked Stella and her mellow attitude in the face of one of the most stressful situations that could ever be managed- they say deaths and marriage are the most stressful, but I think being trapped in an underwater "world" could easily fit in there too. ​
The ending is definitely not the end but really just the start of Stella's journey and there are way more questions and issues to come. I am very interested to see what Maureen has in store next for the characters that I grew to love. Whatever comes next, I know that Stella is capable and will fight for her friends.
I received this audiobook as part of my participation in a blog tour with Audiobookworm Promotions. The tour is being sponsored by Maureen A. Miller. The gifting of this audiobook did not affect my opinion of it.

USA TODAY bestselling author, Maureen A. Miller worked in the software industry for fifteen years. She crawled around plant floors in a hard hat and safety glasses hooking up computers to behemoth manufacturing machines. The job required extensive travel. The best form of escapism during those lengthy airport layovers became writing.
Maureen's first novel, WIDOW'S TALE, earned her a Golden Heart nomination in Romantic Suspense. After that she became hooked to the genre. In fact, she was so hooked she is the founder of the JUST ROMANTIC SUSPENSE website.
Recently, Maureen branched out into the Young Adult Science Fiction market with the popular BEYOND Series. To her it was still Romantic Suspense...just on another planet!

I studied theatre in college, and even participated in storytelling festivals when I was growing up. I'm a practicing attorney, and love to participate in ACX projects to keep my creative side happy and fulfilled. I can perform fiction and non-fiction, in neutral-American or Southern-American accents.
I live in North Carolina with my husband, toddler, and pound puppy. I have a soft spot for romance and I love a good laugh!

Prize: $25 Amazon Gift Card
Beneath Giveaway: $25 Amazon Gift Card

Oct. 2nd:
Lynn's Romance Enthusiasm
The Book Junkie Reads . . .
What Emma Read Next
Oct. 3rd:
The Bookworm Lodge
Oct. 4th:
Smada's Book Smack
Jazzy Book Reviews
T's Stuff
Writers N Authors
Oct. 5th:
Hall Ways Blog
eBook Addicts
Expression Gal
Oct. 6th:
Guilty Indulgence Bookclub
Book Addict
Oct. 7th:
Buried Under Books
The Book Addict's Reviews
Oct. 8th:
Wonderlandians Books
Lomeraniel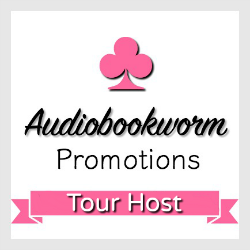 ➜Sign up as a host here