Wicked Woods Omnibus Books 1-6
Kailin Gow
Publication date: February 28th 2018
Genres: Fantasy, Horror, YoungAdult
The Wicked Woods Omnibus contains 6 Full-length novels inthe Wicked Woods Series.

"Ms. Gow has written a great story, but not only that, she captures real-life subjects and has her characters handle situations with maturity. It's almost like she wrote simple life lessons within those pages.
Don't miss out on this spectacular story. " – Amber Reads

"Ms. Gow has written an amazing series, and I was sad to see it end. However, I know that I will reread this series many many times. The world Ms. Gow had created is so unique and original, and I applaud her for that!" – Cassie C. Goodreads Review

"Amazing Series!" – Sherri

"I seem to have a intense fascination with this author, Kailin Gow. I really enjoy her writing style. This is a YA , horror series… but tends to veer I believe toward a more adult audience. I had instance's of a laugh out loud moment. I think there is a great story here with many twists…
Bring your silver, crossbows, holy water and knives , because the slaying has begun !" –Tanya Blog

DESCRIPTION

It started when Briony had to move to Wicked Woods, Massachusetts to live with her Great Aunt Sophie after her family disappears on vacation. The woods at the edge of Aunt Sophie's inn is filled with secrets and inhabitants both seductive and deadly. Among them is a beautiful boy name Fallon who saves her one night in the woods. As Briony gets closer to Fallon, she learns he has a secret, as do most of the residents of Wicked Wood.
My Review:
4 Out Of 5 Stars
Genre: Mystery, Romance, Supernatural, Suspense, Teen, Vampires, Werewolves-- After her parents and brother go missing, Briony is sent to live with her Great Aunt Sophie in the small town of Wicked. The night before school starts, a couple knocks on the door- a couple who her aunt denies entry to her home because they are not human. In Wicked, Vampires and Werewolves roam the woods, without humans being the wiser- except for the hunters who make it their job to stop the predators. But now Briony knows and her aunt is training her to be a hunter.
​ What a fun, quick adventure! I went into this book with zero expectations, never having read anything by this author before and a little vague as to what the book was about (except for a Wicked Woods, duh), so when I got instantly sucked into the paranormal, romantic, drama filled adventure I was a little caught off guard. In just one sitting (because I refused to put it down), I got to know Briony and her crew.​ ​I was really entertained by the mix of high school drama and the supernatural/horror components. It made for a compelling read for me that I never knew what to expect next. First we go to a high school football game with some new friends and then we kill (vanquish?) a vampire in the parking lot of the stadium. It actually had a similar feel to one of my favorite fandoms, Buffy the Vampire Slayer.​ Also, for those who miss the paranormal love aspect of Twilight, this is also a perfect read (but not so full of angst which I appreciated!). Oh and yep, there is a kinda sorta love triangle, made all the more interesting by who the love interests are (scandalous)! After reading the first book I found out that this is a reverse harem story so woo, that means that there is a lot more complicated love to come.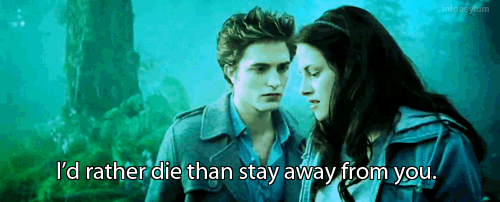 I look forward to the next installment in this story, trust me this is not the end of Briony or this dangerous adventure. I will check out more from Kailin as well since she has tons of other books floating out there in all different genres that I look forward to jumping into. I voluntarily reviewed a complimentary copy of this title.
Author Bio:

Kailin Gow loves things that are edgy, cool, bright, exciting, hopeful, glittery, and jaw-droppingly awe-inspiring. She loves writing, reading, and filming stories about people whose journeys take them beyond their boundaries – physically, psychologically,intellectually, and emotionally to arrive a point and a place of inspiration and hope. Her works have been recognized by the leaders in the industry in book publishing and entertainment to be "innovative" and "disruptive", earning her awards from ALA, The IBPA, and festivals.
GIVEAWAY!
a Rafflecopter giveaway