Author: Gwen Mitchell
Narrator: Daniela Acitelli
Length: 11 hours 52 minutes
Series: Skydancer, Book 1
Publisher: T. M. Miller
Released: Feb. 14, 2018
Genre: Urban Fantasy


Briana turned her back on her magical heritage to chase her dream career, but now a spell cast with her grandmother's dying breath has unleashed her dormant Oracle powers, drawing her into a world of dangerous power and cryptic prophecy. Thanks to her family's tragic history, Bri is a pariah in her hometown, and the only other witches she can turn to are her childhood best friend, Astrid, and Kean--her first love. They are convinced it's destiny that has reunited them and determined to help break the curse on Bri's bloodline. But the longer she stays, the more people die. Tortured by chaotic visions of fire and blood, Bri must harness her magic and navigate the dangerous waters of her past--and past life--to unmask the evil hunting in her shadow before it kills the only loved ones she has left. Because she has a secret of her own. One she already died to protect. And as memories of her ancient rival become clear, so does her grim future...unless she can change it.




My Review:
4 Out Of 5 Stars
Genre: Another_World, Ghosts, Heart-Wrenching, Mystery, Romance, Supernatural, Suspense, Witches--
When Bri is awakened in the middle of the night with anxiety as well as a death vision, she knows what the ringing phone will be about. Bri thought she gave up her life of magic when at 17 she chose to have her powers bound and left her home to start over somewhere fresh. Now, she is forced to go back home since her grandmother and younger sister are dead. But somebody doesn't want Bri to go back, and despite Bri's powers being bound, she is having prophetic visions of what's to come. Bri is going to finally have to make a stand, one she may not have much choice in. ​ ​This story took so many surprising twists that were so unexpected​ and kept me on my toes. Seriously, I went into this story with a certain expectation that I conjured up from the synopsis with the book and I had to quickly throw my preconceived notions out the window. This story was completely different than what I was anticipating, but I like that about it. There was mystery, romance, history, magic, danger, death, destruction (yep, I need my 3 Ds), heartbreak, hope, surprises, and betrayal all thrown into a convenient audiobook package. ​The story was narrated from many points of view, such as Bri, Kean, Astrid, Lucas as well as the villain/killer.​ I love multi-narration stories, really they are my favorite, because I as the reader get to know everything going on and I hate being left out. We get to know everyone and understand motivations and inner turmoil, but Bri was the main narrator- and boy was her life not what she expected or any kind of easy. ​
Ah, yes, to say that the romance aspect of the book is complicated is a very mild understatement! The story starts as a couple, quickly morphs into a love triangle that becomes a love square. Yep, so Bri has some hard choices to make and it kinda made me want to give the girl a hug- seriously, I was so torn for her (only by 2 choices, one is not a real choice and that situation resolved...sorta...). How can you pick between your heart, the person you have loved since you were young and treats you so well- and the person who was your soulmate in a past life that you have always had memories of and would do anything to protect you? This girl has some really hard choices in front of her and usually I know who I vote for, but this time I am just as torn- One I absolutely love and the other I am intrigued by. ​The narrator was a little slow for my taste as well as having a slightly dreamy over the top quality to her tone that got on my nerves when I first started the story. Once I decided to listen to the book at 1.5x speed, her narration was spot on and I found myself enjoying the story way more. ​I would listen to more books narrated by her in the future due to her enunciation and characters distinctions now that I know she needs to be sped up (as per my personal preferences).
​The ending took some terrible (aka freaking heartbreaking!) and surprising twists (I had my suspicious and wanted to cheer when I was correct, which was almost instantly replaced by fear and sorrow for what came next!) which makes me desperate to get my hands on the next book in the series. There are so many things I want to know more about or know how a situation will resolve that I keep making up my own theories- so please, give me another book before I create a crazy new plot in my head for how everything will turn. ​This is my first read by Gwen and I can't wait to get my grabby hands on more. I received this audiobook as part of my participation in a blog tour with Audiobookworm Promotions. The tour is being sponsored by Gwen Mitchell. The gifting of this audiobook did not affect my opinion of it.
Gwen is living her happily ever after in Seattle. She's a nature lover, science geek, and spiritual explorer, with a nose for well-aged tequila and a pin-up fashion obsession. When not chasing butterflies to hidden waterfalls or cavorting through the Emerald City, she can be found in a cozy chair reading, or brewing up tales of magic, adventure, and romance.

Daniela Acitelli is a professional Audiobook Narrator / Voice Over Artist with a Theatre, Film, Cabaret and Circus background. You can find her on Audible, Itunes and Amazon. She also narrates for the RNIB, SpokenRealms, Deyan and Whitehouse publishing.
Daniela is an actress with a stage background trained in the Meisner technique and Lee Strasberg's "Method" acting. She has a background in and a great love of Cabaret and Vaudeville including the old time concert saloon, minstrelsy, circus acts, dime museums, and literary American burlesque shows.

Rain of Ash Giveaway: $25 Amazon Gift Card

Mar. 22nd:
Here's to Happy Endings
The Book Junkie Reads . . .
Mar. 23rd:
Angel's Guilty Pleasures
Amie's Book Reviews
Mar. 24th:
T's Stuff
2 Girls and A Book
Ginger Mom and the Kindle Quest
Book Addict
Mar. 25th:
Turning Another Page
Up 'Til Dawn Book Blog
Loves Great Reads
Mar. 26th:
Chapter Break
Lilly's Book World
Smada's Book Smack
Mar. 27th:
Bookworms Corner Blog Spot
The Book Addict's Reviews
Dazzled by Books
Mar. 28th:
Holed Up In A Book
What Is That Book About
Carolyn M. Walker, Fiction Author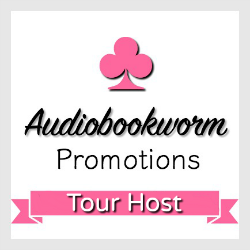 ➜Sign up as a host here