Over Raging Tides
Jennifer Ellision
(Lady Pirates, #1)
Publication date: March 20th 2018
Genres: Fantasy, Young Adult
The pirate crew of the Lady Luck lives by many rules, but chief among them is this: they do not allow men on board.

That's a rule that quartermaster Grace Porter is willing to break when a shipwreckedyoung nobleman offers her information of an omniscient map, stolen from his warship by an enemy vessel. Until now, the map was only the stuff of legend… but with its help, Grace may finally be able to hunt down the Mordgris, the sea monsters who stole her mother away from her.

Unfortunately, some members of her crew have other plans…

To find the map and face the Mordgris, Grace will have to confront her past, put the Luck between warring nations, and uncover treachery aboard the ship. And ultimately, her revenge and the destruction of the Mordgris will come at a hefty price: the betrayal of her crew.

Grace promised them they wouldn't regret this.

She just isn't sure that she won't.
My Review:
4 Out Of 5 Skulls
Genre: Historical, Supernatural, Suspense, Teen--
"By now, I think the older boy has worked out what we are. There isn't a uniform among us. Just weapons and dirt; boats, and breasts "
Gracie is the Quartermaster on the pirate ship Lady Luck, second in command to the all female crew of pirates. After narrowly escaping a battle between ships, the crew approaches the remains to scavenge for treasure when Gracie stumbles across survivors- 2 male survivors. To add to the troubles, there are creatures afoot as well, the gray skinned Mordgris who swim in the ocean and appear to be following Gracie. When the possibility of a legendary map pops up, the crew jump at the chance to seek out treasure...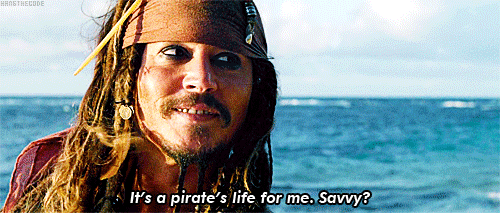 "...But even a decision made in haste is a decision made, and I'll be damned if I'm not going to stand by it."
​ I was surprised by how realistic this story was for the times as well as the job (pirating is a job, right?), regardless of them being females (yes, I know, very gender stereotype of me!) I kinda expected refined and clean ladies- nope, that was not this crew. They cussed and discussed sex on a regular basis and could handle there own be it drinking run or using a sword. These are your typical pirates, they just so happen to be female. ​Go girl power!
​"I don't guess that ladies talk that way​ where you're from?" I ask. "No one talks that way where I'm from," he says. "Shame. Our brand of honesty can be...refreshing."
​I thought it was very interesting that there is a superstition mentioned in the story that women aboard a ship would bring bad luck, which is a crazy idea as well as a great plot device for the premise of an all female pirate crew. So of course I had to google it and discovered that Pirates in general were quite a superstitions bunch- starting a voyage on a Friday means your doomed, whistling on a boat causes storms​, bananas on board are bad luck- and yes, women were not allowed on any kind of ship since they would anger the Sea Gods and bring misfortune to the crew (what kind of sea gods don't like women??). Well, I love how Jen took that tidbit and created this entire world of kickass female pirates, way more capable than anyone gives them credit for. Overall I found this to be a great adventure filled with danger and strong compelling characters and there will be more to come from Gracie and her crew since is just the beginning of the hunt. It is the perfect read for those needing their pirate fix or anyone wanting a lot of action in their reads! I am voluntarily reviewing an advance, complimentary copy of this book.
Author Bio:

Jennifer Ellision spent a great deal of her childhood staying up past her bedtime with a book and a flashlight. When she couldn't find the stories she wanted to read, she started writing them. She loves words, has a soft spot for fanfiction, and is a master of the fangirl flail. She resides in South Florida with her family, where she lives in fear of temperatures below 60 Fahrenheit.
GIVEAWAY!
a Rafflecopter giveaway