Book Blurb:
Author: Jesikah Sundin Narrator: Sunil Patel Length: 12 hours 30 minutes Publisher: Forest Tales Publishing⎮2017 Genre: Science Fiction Series: The Biodome Chronicles, Book 1 Release date: Dec. 11, 2017
She is from the past, locked inside a world within a world. He is from the future, haunted by her death. A sensible young nobleman and his fiery sister live in an experimental medieval village. Sealed inside this biodome since infancy, Leaf and Willow have been groomed by The Code to build a sustainable world, one devoid of Outsider interference. One that believes death will give way to life. All is ideal until their father bequeaths a family secret with his dying breath, placing an invisible crown of power on Leaf's head. Now everyone in their quiet town is suspect. Risking banishment, the siblings search for clues, leading them to Fillion Nichols, an Outsider with a shocking connection to their family. Their encounter launches Fillion into battle with his turbulent past as he rushes to decode the many secrets that bind their future together--a necessity if they are all to survive. Cultures clash in an unforgettable quest for truth, unfolding a story rich in mystery, betrayal, and love. Are you ready to discover what is real?
Goodreads | Amazon | Audible | iTunes
My Review:
3.5 Out Of 5 Stars
Genre: Another-World, Mystery, Romance, Royal-Court, Teen--
"Are you ready to discover what is real?"
When Leaf and Willow's father suddenly dies, they are adrift as to what will happen next. Little do they know, but they are really part of a bigger secret- ​with too many lies and hidden purposes that the siblings may not be able to live up to. On the outside of their hidden world, Fillion is disinterested in his life, just waiting the days until he will be sentenced for his hacking crimes. But instead of jail time, he is informed of a secret, one he will now be part of. These three teens from very different worlds will soon cross paths even though they don't know it yet. ​The story was interesting and very complicated, with some surprise twists and secrets. The author has a poetic writing style, very descriptive and flowery, creating a vivid imagery that came to life for the reader. Everything was so descriptive, yet at times I feel like the detail overwhelmed me and the plot transitions were lacking. The idea of the book was also really creative and unique, a simple society with no technology or advancements bubbled safely within a futuristic society with the most advanced of technology. The clash between the two elements made for some interesting interactions and ideas that I had never thought of before.
Author Bio:
Website⎮Twitter⎮Facebook⎮Goodreads⎮Pinterest⎮Instagram

Narrator Bio:
My name is Sunil Patel and I am a professional British male Voice-Over artist. I was born and bred in London, UK, and woke up with a deep, rumbling voice when I neared adulthood. As a result I have pursued the lifestyle of a Voice Actor / Voice-over artist, not wanting my unique voice to go to waste. I have recorded for multinational companies like Herbal Life, and organisations like The Billy Graham Evangelist Association. I have also narrated an audiobook called Legacy: The Biodome Chronicles. I can also do voice-overs in other languages, which includes Hindi and Gujarati. I have been voice trained by coach and mentor, Gary Terrza (https://www.vomasterclass.com), a successful and and well-known voice actor who has been doing his craft for over 25 years. I have also received additional voice training by my acting mentor and coach, Gavin MacAlinden, (https://www.actinggymnasium.co.uk/) Other interesting facts about myself: I worked as a Police Community Support Officer for the London Metropolitan Police for four years; Travelled to 16 countries; Climbed 3 mountains, including a Himalayan peak; I speak 5 languages and most importantly I am also pursuing a career in acting and have performed in local theater in Camden, London.
Website⎮Twitter⎮Facebook

Feb. 8th:
Literature Approved
Dab of Darkness Audiobook Reviews
The Book Junkie Reads . . .
Feb. 9th:
The Writing Train
Jazzy Book Reviews
La libreria di Beppe
Feb. 10th:
Audacious Blairs Blog
Smada's Book Smack
Feb. 11th:
Lilly's Book World
Up 'Til Dawn Book Blog
Feb. 12th:
AudioSpy
Blätterflüstern
T's Stuff
Feb. 13th:
Lomeraniel
Notes from 'Round the Bend
Amie's Book Reviews
Feb. 14th:
The Book Addict's Reviews
Loves Great Reads
Pregnant, Barefoot, in the Kitchen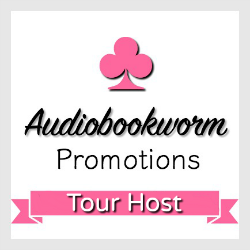 ➜Sign up as a host here