I had the privilege of meeting YA author Marissa Meyer on January 30th at a book signing event hosted by my fabulous local bookstore, The Kings English, to honor the release of her most recent YA graphic novel, Wires and Nerve book 2: Gone Rogue. Click Here if you would like to learn more about her newest release. I decided in honor of her visit to give away a SIGNED copy of her first graphic novel, Wires and Nerve. Enter the Rafflecopter for a chance to win. Giveaway ends February 6th, US only sorry.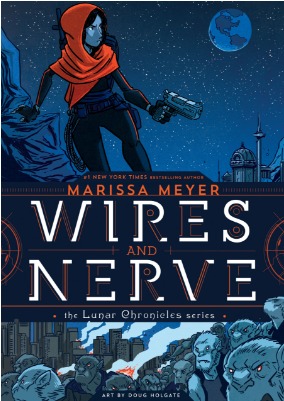 Book Blurb:
When rogue packs of wolf-hybrid soldiers threaten the tenuous peace alliance between Earth and Luna, Iko takes it upon herself to hunt down the soldiers' leader. She is soon working with a handsome royal guard who forces her to question everything she knows about love, loyalty, and her own humanity. With appearances by Cinder and the rest of the Rampion crew, this is a must-have for fans of the series.
Find out more about the book on Goodreads
Author Bio:
I live in Tacoma, Washington, with my husband and beautiful twin daughters. Represented by Jill Grinberg. Learn more about me and my upcoming books at
http://www.marissameyer.com.
Goodreads | Twitter | Instagram | Facebook
a Rafflecopter giveaway