Thrax
Christina Bauer
(Angelbound Origins #4)
Published by: Monster House Books
Publication date: June 27th 2017
Genres: Fantasy, Young Adult
Myla Lewis has married Prince Lincoln, and now they're expecting! All the after-realms rejoice. Myla should be happy too, but she has a serious problem. The day after their honeymoon ended, Myla's real husband disappeared.

The man who's sharing her bed is an imposter.

Myla tries explaining about "Evil Lincoln," but no one will listen. The reason? People think that Myla's supernatural pregnancy is making her cray cray. Mostly because that's what Evil Lincoln is telling everyone, and that man's a great liar. What a creep.

There's no way Myla will take this lying down, though. She's going to rescue her man, and she has a pretty good idea where he's being held. With her best friend, Cissy,along to help, Myla sneaks off to Earth. All she has to do is blend in with the humans, avoid Evil Lincoln, and find her real man before the baby arrives. How hard can it be?
Goodreads / Amazon / Barnes & Noble / iBooks / Kobo
My Review:
5 Out Of 5 Stars
Genre: Angels, Another-World, Hysterical, Mystery, Romance, Royal-Court, Supernatural--
Myla has enjoyed the last three weeks, it is her honeymoon after all. But just when life is about to return to normal, Lincoln receives a letter that ends up spinning Myla's life on it's head. Again. When Myla wakes up, she knows something is not right with Lincoln...or at least the person who looks like Lincoln but who Myla is convinced is not Lincoln. Regardless of nobody believing her, she will get to the truth and save Lincoln. And Purgator (and Antrum) know no fury like a pregnant Scala out to save her man.
The thing I found interesting about this book was that it kind of reminded me of the first book in the series, Angelbound, where Myla was basically on her own to solve problems and kick butt. The last two books Myla has been part of a team, but here she only had herself really. And sure, her situation is completely different, but overall this was all about Myla saving the world (again, cause she is awesome!) and kicking a lot of ass with her usual hot-headed reactions and plenty of sass. This is one girl you should not mess with and I am down with the girl power.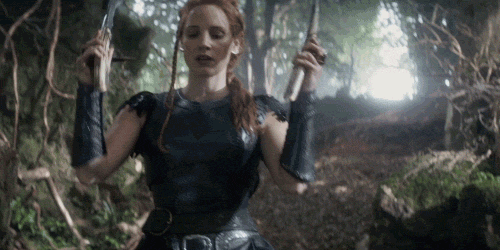 I think that regular pregnancies sound scary enough, but a supernatural pregnancy is terrifying on epic proportions. Myla knew the moment she was pregnant due to her little igni friends (and when I say moment, I mean like right after the act!) and now she is carrying a potentially super powerful baby who can be born whenever (there is no set timeline for supernatural pregnancies, the more powerful the baby the faster the pregnancy- which is terrifying to me). I guess (part) demon babies don't need to cook as long as human babies (Myla's mom was pregnant with her for 3 months). The relationship dynamic between Lincoln and Myla is meltingly adorable- if I didn't love the two of them together so much I would say it is sickeningly sweet. The fact a single interaction with a Lincoln lookalike was enough for Myla to know it is not her Lincoln really says something about their relationship. I enjoy how they are such a team, be it in fighting, ruling, scheming or even just relationshiping (hey, I can make up words, shush!). Cissy was back and I didn't realize how much I missed her- she was a huge part of book 1 but only a minor character in the last 2, but the mischief she and Myla get into is epic- Best friends who always have your back I think should be a must in books. I really liked how Myla and her Igni have evolved and understand each other, but it was great that Xavier had the opportunity to have them talk to him at "triple screech level" to fully appreciate the challenges Myla has with her little friends.
As a side note, I have listened to the audiobooks for the first three books in the series and I absolutely loved them. This is actually the first book that I have literally read and I am so glad I had previously listened to Christina narrate her books because while I was reading this I could hear the characters voices and personalities that I have grown to love. ( I would have loved to hear what voice Christina gave to Ethan because he is such a slimy character, but I like to imagine him as super whiny.) Overall this was another great addition to the Angelbound world and I am so happy that I have had the opportunity to experience this developed, unique, magical (demonic?) world and fall in love with these characters. I look forward to whatever mess Myla and Lincoln have to face next.
I received this title for reviewing purposes.
Author Bio:

Christina Bauer knows how to tell stories about kick-ass women. In her best selling Angelbound series, the heroine is a part-demon girl who loves to fight in Purgatory's Arena and falls in love with a part-angel prince. This young adult best seller has driven more than 500,000 ebook downloads and 9,000 reviews on Goodreads and retailers.

Bauer has also told the story of the Women's March on Washington by leading PR efforts for the Massachusetts Chapter. Her pre-event press release—the only one sent out on a major wire service—resulted in more than 19,000 global impressions and redistribution by over 350 different media entities including the Associated Press.

Christina graduated from Syracuse University's Newhouse School with BA's in English along with Television, Radio, and Film Production. She lives in Newton, MA withher husband, son, and semi-insane golden retriever, Ruby.

Be the first to know about new releases from Christina by signing up for her newsletter: http://tinyurl.com/CBupdates

Blog / Goodreads / Facebook / Twitter / Instagram / LinkedIn
GIVEAWAY!
a Rafflecopter giveaway