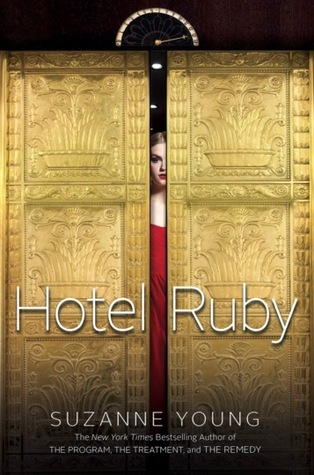 Book Blurb:
Stay tonight. Stay forever. When Audrey Casella arrives for an unplanned stay at the grand Hotel Ruby, she's grateful for the detour. Just months after their mother's death, Audrey and her brother, Daniel, are on their way to live with their grandmother, dumped on the doorstep of a DNA-matched stranger because their father is drowning in his grief. Audrey and her family only plan to stay the night, but life in the Ruby can be intoxicating, extending their stay as it provides endless distractions—including handsome guest Elias Lange, who sends Audrey's pulse racing. However, the hotel proves to be as strange as it is beautiful. Nightly fancy affairs in the ballroom are invitation only, and Audrey seems to be the one guest who doesn't have an invite. Instead, she joins the hotel staff on the rooftop, catching whispers about the hotel's dark past. The more Audrey learns about the new people she's met, the more her curiosity grows. She's torn in different directions—the pull of her past with its overwhelming loss, the promise of a future that holds little joy, and an in-between life in a place that is so much more than it seems… Welcome to the Ruby.
My Review:
2.5 Out Of 5 Stars
Genre: Another-World, Audiobook, Ghosts, Mystery, Supernatural, Teen--
Audrey's family fell apart a few months ago when her mother shockingly died. Ever since that day, they have been spiraling out of control, and Audrey's father is over pretending to deal with Audrey and her brother Daniel. During the drive to drop the teens off at their estranged grandmother's for the summer, they come across the Hotel Ruby and decide to stay a night. One last night together as a family before everything changes… I had been wanting to read this book for the last few months because I had heard that it was scary and I am currently in a horror book need, so I was excited to get my hands on it. I found the first half to be interesting but not frightening, mostly about character building and setting than anything else. The second half took a turn and did have some gory and shocking moments, but still nothing scary. And then the last part of the book was the biggest freaking let down ever! The story had SO much buildup, hundreds of pages of buildup actually, for a one page conclusion that was terrible. I could not believe how easily everything resolved and that the scary did not exist in this book, not even a little. I had figured out the deal with the Ruby by the half way point of the book as well as the deal with Audrey's family, so I was not surprised by that part of the ending. But the whole thing with Kenneth, the evil villain who ruled over everyone, was such a stupid waste of what could have been a good book. I wanted something epic and interesting, but instead I got a happily ever after (sort of). I was completely let down by this story, unfortunately. As a side note, I listened to this as an audiobook and the narrator did a great job and did not annoying me even a little. I do not fault her for my lack of love for this book and I hope I can listen to something else she reads down the road.