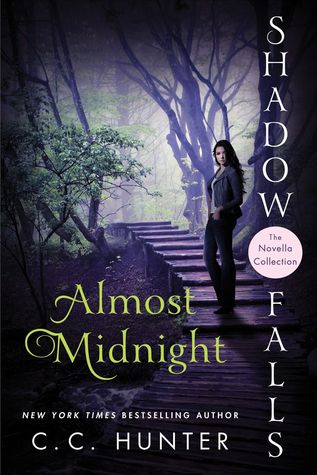 Book Blurb:
Novella Collection Nestled deep in the woods, Shadow Falls is a secret camp where teens with supernatural powers learn to harness their abilities and live in the normal world. Independent and strong-willed Della Tsang did not believe in vampires...until she became one. Chase Tallman is the newest member of Shadow Falls, but what made him into the sexy, mysterious vampire he is today? And what led him to Della Tsang? And for Miranda Kane, magic has always been something she's struggled with, but when an opportunity to test her powers takes her to Paris, she'll have to prove that she's a witch to be reckoned with and belongs at Shadow Falls. Fans won't want to miss these four remarkable stories of love, magic and friendship.
My Review:
4 Out Of 5 Stars
Genre: Ghosts, Mystery, Romance, Supernatural, Teen, Vampires, Werewolves, Witches--
I have really enjoyed the Shadow Falls-After Dark Series, even the novellas have been engaging to me which almost never happens since I avoid novellas like the plague. I had previously read all the novellas in this collection individually, except for the last one Fierce, that was new for me. I won't re-review the stories that I have reviewed previously, but I will show my stars and give a link to
my reviews
if more info is wanted. Overall though, I love this world. There is plenty of supernatural, mystery, action and most importantly romance in each book that I just eat up. I highly recommend this series for anyone looking for a good read with strong female characters who don't need a man to save the day, but get to have one anyway. Turned at Dark- Della's vampire origins 3 Out Of 5 Stars Saved at Sunrise- Della trying to prove her worth by working a case for Burnett where she meets shapeshifter Steve 4 Out Of 5 Star
Unbreakable
- Chase and his heart-wrenching vampire origins with a dash of fate thrown in 4 Out Of 5 Stars
Spellbinder
- Miranda showing her skills at a witch competition 4 Out Of 5 Stars Fierce Fredericka Lakota, a character I am not familiar with since I have only read the first book in the shadow falls series, is the main character here. Fredericka is a bit of an outcast loner, waiting to graduate high school so she can have an actual relationship with her teacher. She is an artist and desires to sell her jewelry at a gallery where she meets a handsome gut she feels a pull towards. With a ghost, a murder mystery, shapeshifting and blackmail, can Fredericka overcome her doubts to save the day? I had never met her, yet I was able to get such a clear picture of who she was as a character, and I was intrigued by her. I would easily read a full length story about her, but I feel like this novella did a good job of making a complete story. I love this series and can't wait for more from this world, and just from this author in general. I received this title in return for my honest review.