Book Blurb:
A skilled painter must stand up to the ancient power of the faerie courts—even as she falls in love with a faerie prince—in this gorgeous debut novel. Isobel is a prodigy portrait artist with a dangerous set of clients: the sinister fair folk, immortal creatures who cannot bake bread, weave cloth, or put a pen to paper without crumbling to dust. They crave human Craft with a terrible thirst, and Isobel's paintings are highly prized. But when she receives her first royal patron—Rook, the autumn prince—she makes a terrible mistake. She paints mortal sorrow in his eyes—a weakness that could cost him his life. Furious and devastated, Rook spirits her away to the autumnlands to stand trial for her crime. Waylaid by the Wild Hunt's ghostly hounds, the tainted influence of the Alder King, and hideous monsters risen from barrow mounds, Isobel and Rook depend on one another for survival. Their alliance blossoms into trust, then love—and that love violates the fair folks' ruthless laws. Now both of their lives are forfeit, unless Isobel can use her skill as an artist to fight the fairy courts. Because secretly, her Craft represents a threat the fair folk have never faced in all the millennia of their unchanging lives: for the first time, her portraits have the power to make them feel.
Find out more about the book on Goodreads
----- -----
My Review:
5 Out Of 5 Stars
Genre: Another-World, Faeries, Romance, Royal-Court, Supernatural, Teen-- I enjoy how dark, twisted and malicious the Fey are, yet people are still enamored with them. Be it the humans in the stories to us the infatuated reader, we just can't get enough of the danger and beauty of the fairfolk. And An Enchantment of Ravens is a prime example of why the Fey make the best of stories. An Enchantment of Ravens was such a charming story, I could not help but love it. There was odd encounters that were typical of the Fey, there was danger, there was a large helping of darkness, there was romance, there was tenderness and there was awkwardness and humor. Wrap all that up with very lyrical writing that in itself was artwork, and this immediately bumped into one of the best books I have read this year.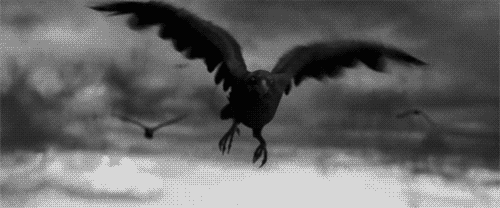 Isobel was the best of heroines and Rook was the most charming (against his will) of princes. Isobel was capable and levelheaded, even at the most ridiculous of circumstances, trying to be her own as well as Rook's voice of reason in a world turned upside down (did I mention that this was also an adventure story??). I alternated between laughing, swooning or being concerned for Isobel's well being. Rook was princely and demanding, but oh so romantic- and who would have guessed a raven would be cuddly? I was in love with all of the cast to be honest though, be it the wild twin sisters who use to be goats, or her strong determined aunt, to Lark and her crazy whimsy and dangerous games, or Hemlock the creepy yet intriguing foe. Really, nothing was as it seemed and I was so lost in the story. This was such a romantic, different read and I loved all things about this book. It was also amazing at how perfect this was as standalone story, with everything wrapped up in the best of ways. I am incredibly impressed that Margaret was able to create such a detailed, vivid world that I experienced (not just read) in just a single volume (yay for not having to wait to see what happens- that is the way to an impatient girls heart, FYI). That takes great skill and it was done perfectly! I am now officially a fangirl and will read whatever Margaret wants to write next.