Book Blurb:
Beyond the Mist by Casi McLean Narrator: Amy Deuchler Length: 8 hours 10 minutes Publisher: The Wild Rose Press⎮2017 Genre: Time Travel Romance Series: Lake Lanier Mysteries, Book 2 Release date: Mar. 26, 2017
Piper Taylor concedes she'll never fall in love, until a treacherous storm spirals her into the arms of the handsome Nick Cramer. Unrelenting remorse over a past relationship haunts Nick, but he can't deny the mysterious connection and hot desire Piper evokes. The allure of a secret portal hidden beneath Atlanta's Lake Lanier tempts him into seizing the opportunity to change his mistakes. But his time slip triggers consequences beyond his wildest dreams. Can Piper avoid the international espionage and terrorism of 2001 New York, find Nick, and bring him home before he alters the fabric of time, or will the lovers drift forever Beyond The Mist?
Amazon | Audible | iTunes
My Review:
4 Out Of 5 Stars
Genre: Audiobook, Historical, Mystery, Romance, Time-Travel--
Can saving the life of a single person alter the future so dramatically? That is the question that Beyond the Mist asks- can a man desperate to escape the trauma of his past cause irrevocable changes to the future of his friends by saving the life of a woman from his past- a woman who has more secrets than Nick knows? And the girl who loves him in the present will do whatever she can do to bring him home alive without damaging the world further.​ ​Book 2 literally picks up where book 1 ends, with Lacey recuperating in the hospital ​after getting back from her time travel jaunt and 3 day coma and all her friends and family coming to terms with what really happened- and that time travel is for realsies. I highly recommend that you read the first book in the series Beneath the Lake before Beyond the Mist because you will be 100% lost without.

Author Bio:
Award winning author, Casi McLean, pens novels to stir the soul with romance, suspense, and a sprinkle of magic. Her writing crosses genres from ethereal, captivating shorts with eerie twist endings to believable time slips, mystical plots, and sensual romantic suspense, like Beneath The Lake, WINNER: 2016 Gayle Wilson Award of Excellence for BEST Romantic Suspense. Casi's powerful memoir, Wingless Butterfly: Healing The Broken Child Within, shares an inspirational message of courage, tenacity, and hope, and displays her unique ability to excel in nonfiction and self-help as well as fiction. Known for enchanting stories with magical description, McLean entices readers in nonfiction as well with fascinating hooks to hold them captive in storylines they can't put down. Her romance entwines strong, believable heroines with delicious hot heroes to tempt the deepest desires then fans the flames, sweeping readers into their innermost romantic fantasies. Ms. McLean weaves exceptional romantic mystery with suspenseful settings and lovable characters you'll devour. You'll see, hear, and feel the magical eeriness of one fateful night. You'll swear her time travel could happen, be mystified by her other worldly images, and feel heat of romantic suspense, but most of all you'll want more.
Website⎮Twitter⎮Facebook⎮Goodreads⎮Instagram

Narrator Bio:
Amy is a Chicago-based voice artist and actor specializing in audiobook narration, e-learning, and radio or TV commercials. Amy is professionally trained in commercial and narration voiceover and holds a Bachelor's degree in Theatre from Marquette University and a Master's degree in Library and Information Science from University of Wisconsin-Milwaukee. In her spare time, Amy also enjoys reading, painting, designing lights and scenery for theatre, and biking. She lives with her boyfriend and their two cats and a dog just north of Chicago.
Website⎮Twitter⎮Facebook

May 13th:
Happily Ever BookWorm
The Book Junkie Reads . . .
May 14th:
Notes from 'Round the Bend
Authors' Secrets
Jazzy Book Reviews
May 15th:
Booktalk with Eileen
May 16th:
Book Addict
Fried Oreos
May 17th:
T's Stuff
May 18th:
Tale Spinner
Audiobook Romance
May 19th:
The Book Addict's Reviews
Smada's Book Smack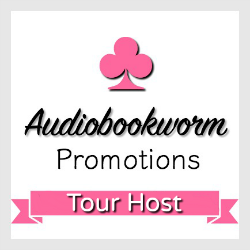 ➜Sign up as a host here