A Prom to Remember
Sandy Hall
Published by: Swoon Reads
Publication date: April 24th 2018
Genres: Contemporary, Young Adult
Love it or hate it, you'll never forget it. In this heart-warming novel, Swoon Reads star, Sandy Hall, explores a classic high school celebration, capturing every relatable and hilarious teen milestone along the way.

Cora: Dating Perfect Boyfriend Jamie. Has NO IDEA how to break up with him…

Paisley: Anti-prom. Somehow nominated her anxiety-ridden best friend for prom king…

Henry: Hates social situations. Invited to prom by the most popular girl in school. SEND HELP!

Otis: Half of one of the cutest couples in his class. Not quite ready for a post-prom hotel room…

Lizzie: Shy. Excited to go to prom. With a boy. Whose name she doesn't know.

Cameron: Loner. Over high school. Just wants to meet the mysterious girl who's been leaving him notes…

Jacinta: Unnamed Nerd Girl #3. Determined to become the star of her own life, starting with prom…

Chosen by readers like you for Macmillan's young adult imprint Swoon Reads, A Prom to Remember, from Sandy Hall (author of A Little Something Different),is a funny and cinematic look at the biggest dance of every high schooler's life.
Goodreads / Amazon /Barnes & Noble / iBooks / Kobo
My Review:
3.5 Out Of 5 Stars
Genre: Romance, Teen--
This was a very cute, incredibly fast YA contemporary read dealing with teens of varying backgrounds (lots of diversity here, be it race or sexual identity) all dealing with different kinds of life issues, choices, hopes- and the driving force is the Prom. As a side note, this book was not really about the prom at all, but more about the stress that life has for teens and how they chose to cope with it- I mean seriously, the prom was only the last few(ish) chapters of the book and not really even described (or attended by some of the main characters anyway).
I love that "promposal" is a word (at least in regards to the US and our craziness) and that it is used in this story. Being from a different age range, the big over the top asking to the dance thing was not even an idea- you want to go to the dance, you talk in person to your potential future date. Bam, that's it! But now, the asking to the dance is way more epic and intense than the actual dance happens to be. Blows my mind, but I love that the author showcases it and how important the grandiose is to teens now. Beware the promposal! The story is narrated from all seven perspectives as they get ready for and dread the upcoming big event. I love stories told from multiple perspective and this one was quite the ensemble cast, with so many character and the dynamics between them, I at times felt like I needed a diagram to keep everything in order when I first started the story. Here is my own version of a a cheat sheet: 1.Cora, leader of the Prom Committee, the girl who is so put together, leads all the clubs and has been with her perfect, cute boyfriend for years- the boyfriend who she really wants to break up with ​2. Paisley, the distant (at times hostile/rude/snarky, but I loved her the most!) feminist who doesn't care about prom even a little bit even though she is on the committee (for college applications only) and inadvertently nominated her best friend Henry for Prom court 3. Henry, suffers from terrible social (actually all kinds) anxiety, prefers to be left alone and not touched regardless of his mom trying to play match maker for him and his classmate Jacinta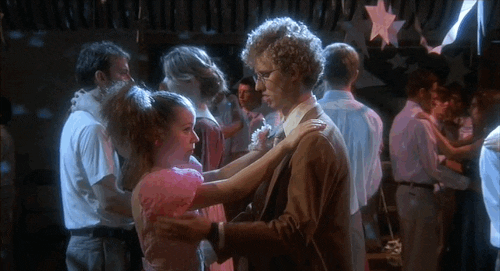 4. Jacinta, the cute, quiet girl who is finally ready to live her life and not be a side character in it, secretly dreams of her own promposal, and feels like prom is the perfect place to take charge- if only she had a date 5. Otis has only recently come to terms with his sexuality and really enjoys his time with his boyfriend Luke, but when he finds out Luke got a hotel room for prom he feels like he might be in over his head and not ready to take that step 6. Cameron has been talking for months with his anonymous laptop-pen pal appropriately referenced as "laptop girl" and he would love nothing more but to meet her in person, which prom seems like the best excuse for that 7. Lizzie, the insecure girl with a heart of gold, able to keep Paisley in check (which is a feat!) and would love to meet her pen pal, but has some serious doubt he will be in to her. ​ ​Each character was completely unique with their own voice and personality, view alternating at chapters​, to help give the reader a peak into their anxieties and concerns- life is not all roses for teens.
​Overall this was a cute read, I personally would have loved for actual prom drama, but the point of the story about teens finding themselves was made very clear. The relationships between all the teens, especially the friendships, are what really make this story. This is a perfect lazy day read for those who love their YA contemporaries. ​ ​I am voluntarily reviewing an advance, complimentary copy of this book.
Author Bio:

I'm a teen librarian from New Jersey where I was born and raised. I have a BA in Communication and a Master of Library and Information Science from Rutgers University. When I'm not writing, or teen librarian-ing, I enjoy reading, slot machines, marathoning TV shows, and long scrolls through Tumblr. A LITTLE SOMETHING DIFFERENT is my first novel.
GIVEAWAY!
a Rafflecopter giveaway