Author: Kim Sanders
Narrator: Eva Kaminsky
Length: 9 hours 38 minutes
Publisher: Kim Sanders
Released: Oct. 31, 2017
Genre: Contemporary Romance


Winner of three contemporary romance awards. The NEC-RWA Readers Choice Award, Contemporary Romance Chick Lit Writers Award, and the Chatelaine Award. In this modern Irish fairytale, a young art teacher from Savannah, Georgia has given up on love. Three times Tory Adams has loved; three times her heart has been crushed. On a whim, Tory purchases a lottery ticket using the dates her ex-boyfriends dumped her. And she wins! Wins over $600 million dollars. All Tory has ever desired is love, a home, and a family. Now, with a pot of gold, she can at least have her own home, and she is not settling for just any home. Tory flies to Ireland to buy the castle on Dragon's Isle, a magical place where her grandparents met and fell in love. But could money buy love? From the moment she arrives in Ireland, Tory faces complications. Wonderful complications. A handsome Irishman appears followed by a trio of men to chase her across the Emerald Isle. But she must decide - do the men love her or are they simply romancing the numbers?




My Review: 5 Out Of 5 Hearts
Genre: Heart, Heart-Wrenching, Romance--
After being fed up with getting her heart broken, on a whim Tori plays the lottery using the days she has been broken up with- and wins! She becomes a hermit to avoid all the attention, especially the marriage proposals, a result of the interview she unknowingly gave where she confessed how she picked her numbers. Due to a promise made with her beloved dying grandmother, she is now on her way to Ireland, the place where her grandmother found love. ​
This was so cute, while listening I felt like I was watching a romantic chick flick with all the ups and downs and feels. There was humor, heart, fate and love and it made me just want to buy a physical copy to hold to my chest. I loved the charm and magic that was interwoven in the story, making Ireland feel magical as if anything is possible, and signs and fate that were everywhere. It was a modern day Irish fairytale about finding yourself and true love and who doesn't want one of those? ​The story was dual narrated by Tori and Shane, the two love interests. Tori did have a habit of assuming the worst about a person or a casual comment and totally overreact- there were so many times she could have avoided painful situations if she thought less with her tender emotions.​ There were so many times that the biggest problem between the two characters were due to incorrect information or inadvertent misleading and it really made me want to scream! If I could have just shaken some sense into the characters, maybe I would have had a happy ending sooner... The narrator was so good, I would gladly listen to her read me more books in the future- and remember, I am a super picky listener! She brought all the characters to life, not just the two main characters​ but all the side characters were bursting with personality. Her Irish accent was just perfect and charming. I do think that she is up there with one of my favorite narrators and I would love to listen to more stories read by her- I have now added all her narrated books to my wishlist!
I really enjoyed being swept up in the story, be it the swoony romantic moments, the heartfelt truths, or the ridiculous comedy provided by three unwelcome suitors. I did read somewhere that there will be another book focused on Carter and that will 100% be on my wish-list as soon as it exists! I highly recommend this book and I can't wait for more from this author. I received this audiobook as part of my participation in a blog tour with Audiobookworm Promotions. The tour is being sponsored by Kim Sanders. The gifting of this audiobook did not affect my opinion of it.
Kim Sanders is a best-selling author of contemporary romance who loves beaches, dragonflies, and rain on a blue tin roof. But what she loves the most is a happily-ever-after story. Her first novel, Shades of Gray, was an award-winning novel that was a number one bestseller on Amazon's Contemporary Romance Bestselling List. Her second novel, The Ex Lottery, has won three prestigious first-place awards for contemporary romance. Sanders' work has been recognized by Kirkus Reviews, Chanticleer Book Reviews, and Writers Digest. Before becoming an author, Sanders worked as a photographer, a journalist, an editor, and an attorney.

Eva Kaminsky is a New York born and NYC based actor and narrator. A 2014 Audie nominee, she has recorded over 150 audiobooks in many different genres ranging from Romance to Young Adult. Eva can often be heard on TV and radio commercials for such products as Intel, Publix, Neulasta and Tide, and spent her earlier years in the world of animation voicing characters for Teenage Mutant Ninja Turtles, Pokemon, Yu-gi-oh, among many others. Recent recurring and guest appearances on television include Chicago Med, Billions, Madam Secretary, Madoff, Blindspot, and The Blacklist, and on the larger screen she can be seen in Extremely Loud and Incredibly Close, Three Generations, and Stephen King's The Dark Tower. She has spent over 20 years working in the theatre, both on and Off Broadway, and extensively in regional theatres all over the country.

The Ex Lottery Giveaway: Kindle Fire 8

Feb. 18th:
The Book Junkie Reads . . .
T's Stuff
Feb. 19th:
Cali Book Reviews
Feb. 20th:
Jazzy Book Reviews
Feb. 21st:
The Bookworm Lodge
Dazzled by Books
Feb. 22nd:
What Is That Book About
The Cozy Pages
Feb. 23rd:
The Book Addict's Reviews
Another Book Hangover
Feb. 24th:
Up 'Til Dawn Book Blog
Lisa Loves Literature
Smada's Book Smack
Never Too Many To Read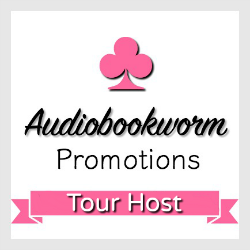 ➜Sign up as a host here