The Longing and the Lack
C.M. Spivey
(The Unliving #1)
Publication date: September 19th 2017
Genres: New Adult, Paranormal
"Gothic curses, deadly love affairs, and vengeful ghosts combine to make this paranormal mystery a compelling page-turner." — Tina Connolly, Nebula-nominated author of Ironskin

Lucinda Hightower is no stranger to death.

Since she was a child, Lucinda has been haunted by rabid dogs, suicidal crows, andthe ghost of a woman in white. All are omens signaling someone's imminent demise—except Lucinda's friends and family are still breathing.

The omens follow her to Ireland and the quiet university in her father's hometown, increasing in strength and frequency once she meets Damien Reed. A handsome third year student, Damien thrusts himself into Lucinda's life almost immediately and caresses away the unsavory reputation that shadows him.

It's not until the ghost sinks her nails into Damien that he reveals his secret: the death omens are for him.

They're the manifestations of a curse that claims the life of the eldest Reed son every generation. Damien's time is nearly up. If Lucinda is to save him, she must solve the mystery of her family curse, and lay a spirit's rage to rest.

A dark romance for fans of Diane Setterfield and the TV show Supernatural, The Longing and the Lack is a Gothic story for the modern age.
Goodreads / Amazon / Barnes & Noble / Kobo
My Review:
3.5 Out Of 5 Stars
Genre: Ghosts, Mystery, Romance, Supernatural, Scary, Suspense--
Lucinda decided that she wanted a new start so she chose to attend college in Ireland, her parent's birth place. But really, she is hoping that the oddness that has followed her will go away, or at least stay away from her family if she is across the ocean. Unfortunately, she can't get away, and instead her visions and strange happenings have become more frequent and harder to tell if they are real or not. To add to matters, a boy is pursuing her, one she had been warned to stay away from and she is drawn to him...but then there just so happens to be a girl who makes her feel normal... Lucinda needs to figure out what is going on with her life before it is too late.
I am a sucker for a great cover and the cover on this book sold me. I had no idea what the story was about but I knew I had to read it since it was just so pretty! When I finally got around to reading the synopsis I was even more hooked due to the mystery and potential supernatural that was alluded to. I think it would be safe to call this a scary paranormal mystery with strong romantic elements. At times I feel like I was missing some of the world building in the story, such as Vampires that the narrator Luncinda just casually mentions as being real, as if this was a second book in a series. After reading some other reviews on Goodreads I found that other's felt the same way and there this is kinda-sorta a tie in to a series of novella's by the author (which sounded really interesting and I wish I had read them first so maybe pick them up before this book). Another thing that I thought was interesting was that Lucinda is bisexual and actively dates two different gender characters at the same time, both which don't seem to like the other, and they don't know that she is dating the other. It made for such a confusing mess to me personally. I didn't really care which one she picked, I felt ambivalent either way, I just wanted her to pick one (but as a side note, if she hadn't dated Damien then the main plot of the book would have been moot).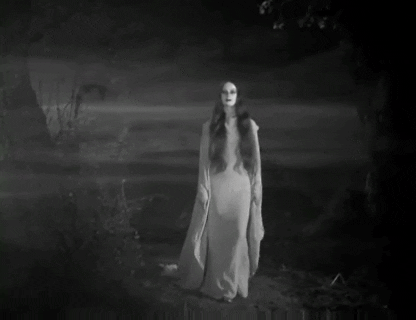 My favorite part of the story was the spooky elements that dealt with the woman in white, scary visions and the suicidal animals (aka everything curse related!). I am a huge sucker for creepy books and the moments in the story were unexpected and at times shocking, keeping me on the edge of my seat waiting for more. At one point the woman in white reaches into Lucinda's chest and squeezes her heart, another a vision of her head slamming against the mirror, a crow flies into the window on purpose, breaking it's neck...each instance was perfect to raise my anticipation for more awfulness. This was a really interesting concept for a story and the creepy elements were really well done. The ending was a huge freaking surprise and I can honestly say I have no idea what will come next for Lucinda. I know I will read more by this author because I have already picked up the Web series to fill in my world building gaps and so I can learn more about Morgan, who was probably my favorite character in the story. This was a very unique story, good for someone looking for a creepy mystery. I received this title for review purposes.
Author Bio:

C.M. Spivey is a speculative fiction writer, author of high fantasy FROM UNDER THE MOUNTAIN and the paranormal series, "The Unliving". His enduring love of fantasy started young. Now, he explores the rules and ramifications of magic in his own works—and as a trans, panromantic asexual, he's committed to queering his favorite genres. In his spare time, he plans his next tattoo (there will always be a next tattoo) and watches too much Netflix. Anything left over is devoted to his tireless quest to makeAmerica read more. He lives in Portland, Oregon, with his darling husband Matt and adorable dog Jay.
GIVEAWAY!
a Rafflecopter giveaway