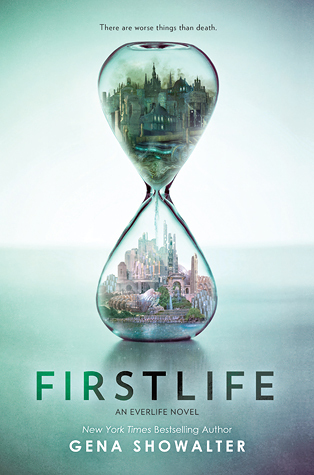 Book Blurb:
ONE CHOICE. TWO REALMS. NO SECOND CHANCE. Tenley "Ten" Lockwood is an average seventeen-year-old girl…who has spent the past thirteen months locked inside the Prynne Asylum. The reason? Not her obsession with numbers, but her refusal to let her parents choose where she'll live—after she dies. There is an eternal truth most of the world has come to accept: Firstlife is merely a dress rehearsal, and real life begins after death. In the Everlife, two realms are in power: Troika and Myriad, longtime enemies and deadly rivals. Both will do anything to recruit Ten, including sending their top Laborers to lure her to their side. Soon, Ten finds herself on the run, caught in a wild tug-of-war between the two realms who will do anything to win the right to her soul. Who can she trust? And what if the realm she's drawn to isn't home to the boy she's falling for? She just has to stay alive long enough to make a decision…
My Review:
3.5 Out Of 5 Stars
Genre: Another-World, Ghosts, Supernatural, Teen--
Tenley is locked away in an asylum until she signs her afterlife to the correct side, correct as per her parent's demands. This "facility" is nothing more than a torture chamber to break teen down and compliant, but Ten refuses to give in. She doesn't want to sign on with the wrong group for her afterlife, just because she is beaten and lied to. Both sides, Troika and Myriad, feel that Tenley plays a big role in their war and are desperate to sign her, sending their best recruiters to persuade her. Enter Archer and Kiernan, both wanting to beat the other out due to a past history. There is so much at stake that Ten needs to stand up and fight for what is right before it is too late. I love Gena Showalter's books, especially her teen ones so I was super excited to read this one. Unfortunately, this one did not start out the way I was hoping it would. Maybe it was my fault, but I could not get into this book to save my life. I found it to be slow, tedious and annoying. On the plus side, I kept reading because I refuse to not finish a book, and by page 250 (out of 400ish- this is a freaking giant book!) I was actually interested and invested in the book. I was glad that I kept going because I did like the second half of the journey and the bizarre journey Ten took. I can honestly say that I would love to read the next book and find out what happens to the people I love. Everything I read keeps saying that this was a love triangle and it was odd that the author made Archer a girl, but I did not find it a love triangle at all. Sure Ten loves both the boys and doesn't want to hurt either, but it is a different kind of love. The love for Archer is familial love, and his outer shape does not matter. The love for Killian is romantic love, and that reared its head almost from the moment they me. Sure Ten is conflicted about what afterlife she wants and that she does not want to let down either boy, but her lust is centered on one. I hate love triangles, but I did not see that as an issue here ( I think the girl is lucky to have them both, but maybe that is just me…) I thought the world building was really good, but it took a while for me to even see it in the book. There was no timeline used and I was not sure when the book was set- on earth in the future, another dimension, another world??? It never clarified and that did end up bugging me a bit. The purgatory dimension (aka the Land of Many Ends) was amazing, probably my favorite part of the story due to the creepy factor and the unknown. The author created 4 different world for this story, each unique and creative, and I fully appreciate that. I think part of my problem with the first half of the book was Ten. Seriously, she talked and thought like an immature 10 year old boy. She gave nicknames to the guards that were body parts and overall was incredibly crude, which totally turned me off. The slang used by her as well as the other inmates was very modern, which yet again confused me as to where this story is supposed to take place. I was intrigued by Tenley's obsession with numbers, and how everything worked into some formula in her head. I have never read a teen book character (especially in a fantasy book) wants to be an accountant, which I thought was entertaining. As the book progressed, she became more of an adult and less of an immature pre-teen boy and I liked her better. Man can the girl take a beating and still keep her spunk and attitude. The one thing I was still confused about was the why behind her not wanting to sign. I was ok with her not wanting to join a side, but I would have liked more reasoning behind her actions, which never happened. Once I got past my irritation and the first half, I really liked this story and flew through the last 200ish pages in one sitting because I could not put the book down. There were some interceding twists that occurred I never saw coming and a terrible ending that stresses me out for the next book. I will most certainly read the next book (and hope that it is not this long since I could have easily cut out half the book as well as the random poetry that made no sense) and continue reading books by this author in the future. I received this title form the publisher in return for my honest review.