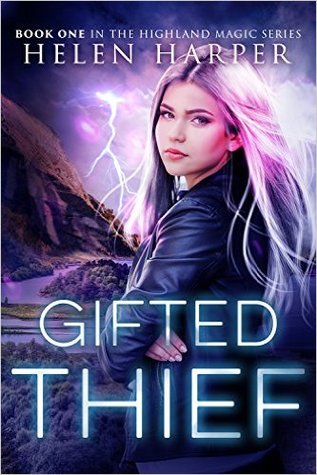 Book Blurb:
Orphan. Runaway. Thief. Since the moment I was ripped from my mother's womb, I've been an outcast amongst my own kind. The Sidhe might possess magical Gifts, unbelievable wealth and unfathomable power but I don't want a thing to do with them. I ran away from their lands in the Highlands of Scotland when I was eleven years old and I've never looked back. I don't need a Clan. I've got my own family of highly skilled thieves who mean more to me than any Sidhe ever could. Unfortunately for me, the playboy heir to the Moncrieffe Clan has something I desperately need. To get it back, I'm going to have to plunge myself back into that world, no matter what the consequences may be. I suppose it's just as well I have sense of humour. I think I'm going to need it.
My Review:
3 Out Of 5 Stars
Genre: Another-World, Faeries, Romance, Royal-Court, Mystery, Supernatural, Urban Fantasy, Witches--
Integrity was a small child living in one of the Fey courts, nameless and forgotten, the daughter of a traitor, when she was rescued by a human. She was given a chance to be a person, and for that that she was grateful. Raised to be the best possible thief she could be, her last assignment before starting a new page in her life is to steal an object in the possession of the very same Fey clan she had once known. She would like to turn down the task, but her makeshift family (as well as the destruction of her world) will face the consequences if she doesn't. am always on the lookout for new urban fantasy books and I love almost all things Fey, so I was excited to have stumbled across this new series. That being said, I only found the book to be ok. It was not a bad read, it just was not the best, but I think that the series could have potential so I would be interested to perchance read the next book. The book was a fast read with a ton of action dealing with mythical creatures attacking, high stakes thievery, changing magical powers, court intrigue, and lots of near death experiences. Integrity was not as fleshed out/likable as I would have liked her to be. She was the main character yet I was not sure I liked her most times. She at times was very superficial and cared more about her appearance and pretty shiny things and made really bad inappropriate jokes at the worst times. I do enjoy a book with humor, especially during dark events, but this was trying too hard I felt. (I won't even go into the fact she slept with her kinda sorta love interest's best friend/second as if it was no big deal.) Basically, she rubbed me as being immature, which is hopefully something she can grow out of in a follow-up book. Bob the Genie I thought was a fun character, with his hopeful trickery and come-ons. Byron the (maybe/hopefully) love interest seemed like a strong character and I would like to see what becomes of him. I think the side characters the author created were quirky and interesting and helped to create a well rounded story. Overall, this was just an ok book but I hope that this can grow and evolve into an urban fantasy series that I can get lost in. I received this title from the publisher in return for my honest review.