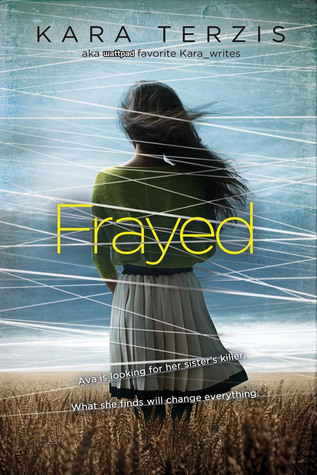 Book Blurb:
Dear Kesley, My therapist tells me I should write you a letter. Like flushing all my thoughts and feelings out of my system and onto paper. I tell her it's a stupid idea. But here I am, writing a letter to a dead girl. Where do I start? Where did our story begin? From the moment you were born...or died? I'll start with the moment I found out the truth about you. Your lies and my pain. Because it always begins and ends with you. And that end began when Rafe Lawrence came back to town... Ava Hale will do anything to find her sister's killer...although she'll wish she hadn't. Because the harder Ava looks, the more secrets she uncovers about Kesley, and the more she begins to think that the girl she called sister was a liar. A sneak. A stranger. And Kesley's murderer could be much closer than she thought... A debut novel from Wattpad award-winner Kara Terzis, Frayed is a psychological whodunit that will keep you guessing!
My Review:
3.5 Out Of 5 Stars
Genre: Mystery, Suspense,Teen--
Ava is devastated after the loss of her older sister Kesley. Kesley was her protector, friend, the best person Ava knew and who Ava so desperately wanted to be like. When it seems like the police are not willing to do anything to solve Kesley's murder, Ava delves into the case herself, but she won't like what she finds. This review will be short because I don't want to give any spoilers away. Overall I thought the book was only ok, but then the end (like the last chapter really) took this awful WTF turn that caused me to sit and stew over the story for awhile, like a train wreck I had to stare at. I really wish that the end could have encompassed more of the story, like hints here and there as to what was coming so maybe it could have been a possibility. This was a murder mystery where you are not sure what is going on, who the killer is, and each new revel casts doubt on what we really know. Ava is a complete victim. She cowers from people, refuses to be her own person, lets others treat her poorly… and I just wanted her to stand up for herself. Everyone in her life is lying to her about something or another, keeping important secrets that should never have been kept. Regardless of everything that happens in the story, I think that people deserve what they got. Kesley was Ava's hero, but really she was not worthy of anything. The fact that her friends were fine with her actions alarms me on many levels. Rafe was the one redeeming character, he was solid and steady, but I was not sure what he really wanted. Did he love Ava all along, or did his pity and confusion cause the feelings? Was it guilt that kept him in her life? I guess I will never know. To say the least, I was surprised by where the book went. It was not the best written book and it dragged at times, but the curve ball I was thrown makes me want to most certainly read more by this author. I received this title in return for my honest review.