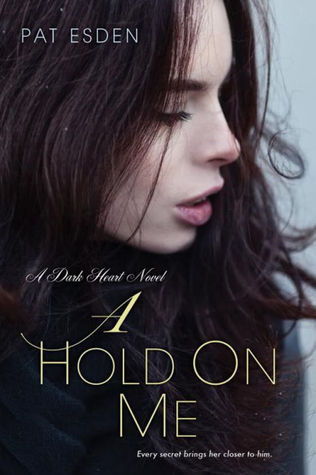 /p>
A Hold on Me (The Dark Heart #1)
She never wanted to return. He wants nothing more than for her to leave. But the fire between them is as strong as the past that haunts them. Annie Freemont grew up on the road, immersed in the romance of rare things, cultivating an eye for artifacts and a spirit for bargaining. It's a freewheeling life she loves and plans to continue--until her dad is diagnosed with dementia. His illness forces them to return to Moonhill, their ancestral home on the coast of Maine--and to the family they left behind fifteen years ago, after Annie's mother died in a suspicious accident. Once at Moonhill, Annie is shocked when her aunt separates her from her father. The next time Annie sees him, he's a bizarre, violent shadow of his former self. Confused, she turns to an unlikely ally for support--Chase, the dangerously seductive young groundskeeper. With his dark good looks and powerful presence, Chase has an air of mystery that Annie is irresistibly drawn to. But she also senses that behind his penetrating eyes are secrets she can't even begin to imagine. Secrets that hold the key to the past, to Annie's own longings--and to all of their futures. Now, to unlock them, she'll have to face her greatest fears and embrace her legacy… Add the book on
Goodreads
Pick up at
Amazon
or
B&N
My Review:
4.5 Out Of 5 Hearts
Genre: New Adult, Romance, Mystery, Supernatural--
Annie and her father make a good team, always on the road together tracking down antiques, just the two of them. When looking through a sale at a church, Annie thinks she sees a shadow pass by her father, but brushes it off as nothing. A few months later, her father is diagnosed with Dementia, and his care is given to his estranged family. Against her will, Annie takes him to his family, strangers to her. There are secrets hidden in their family house and Annie will be dragged into the mystery, whether she wants to or not, in order to fight for her father. I was instantly sucked into the story, right from the moment Annie and her father try to low-ball the priest for the antiques. There was a little bit of everything in this story, which I was not really expecting. From the cover I assumed this would be a romance when I first saw the book. From the synopsis, I expected mystery and drama. After reading the book, I can tell you it had mystery, family drama, romance as well as a big heaping of scariness too (which I absolutely love). The author had the ability to completely creep me out just by creating an atmospheric setting. Nothing even had to happen, just the anticipation and build-up was enough to keep me on the edge of my seat. I thoroughly enjoyed this read and I am disappointed that I put it off for so long before reading it. I could not put the book down and found myself flying through the pages. I can honestly say that this was unlike anything I have read before and I loved every minute of it. Annie was a great character, exactly what I want in my protagonists. She was smart, independent,suspicious, strong-willed, and tough. She was slightly anti-social but was fine in groups if needed, she could pretend with the best of them. I listed suspicious as a good quality, and I really think so because a good dose of suspicion is a helpful tool in life to keep someone on their toes. She is in the worst of situations, in a new odd environment surrounded by strangers who have shady intentions and too many secrets. I appreciated her worry and lack of compliance, it made her more realistic and so relatable (at least to me who questions/doubts everything). I really enjoyed this book and am so glad to have had the chance to read it. The ending could go in any direction and I can't wait to pick up the second book to see what twists the author will throw out at me next. ----------------------------------------------------------------------------------------------------------------------------------------------------------------------------------------------
Beyond Your Touch
Pat Esden
(The Dark Heart #2)
Published by: Kensington
Publication date: August 30th 2016
Genres: New Adult, Paranormal, Romance
She wants more than he can promise.
His desires could lead to betrayal.
But without each other, neither can survive the dangers ahead.

Annie Freemont knows this isn't the right time to get involved with a man like Chase. After years of distrust, she's finally drawing close to her estranged family, and he's an employee on their estate in Maine. Though she never intended to stay on the estate for long, her father's illness and the mysteries surrounding her family made leaving impossible. And now with the newfound hope of rescuing her long-missing mother, Annie's determined to be involved with the family's plans one way or another.

If only she could keep her mind off Chase and focus on the impending rescue. But there's something about the enigmatic Chase that she can't resist. And she's not the only woman. Annie fears a seductive stranger who is key to safely freeing her mother is also obsessed with him. As plans transform into action and time for a treacherous journey into a strange world draws near, every move Annie makes will test the one bond she's trusted with her secrets, her desires—and her heart.
Goodreads / Amazon / Barnes & Noble / iBooks / Kobo
Author Bio:

PAT ESDEN would love to say she spent her childhood in intellectual pursuits. The truth is she was fonder of exploring abandoned houses and old cemeteries. When not out on her own adventures, she can be found in her northern Vermont home writing stories about brave, smart women and the men who capture their hearts. An antique-dealing florist by trade, she's also a member of Science Fiction & Fantasy Writers of America, Romance Writers of America, and the League of Vermont Writers. Her short stories have appeared in a number of publications, including Orson Scott Card's Intergalactic Medicine Show, the Mythopoeic Society's Mythic Circle literary magazine, and George H. Scither's anthology Cat Tales.
GIVEAWAY!
a Rafflecopter giveaway