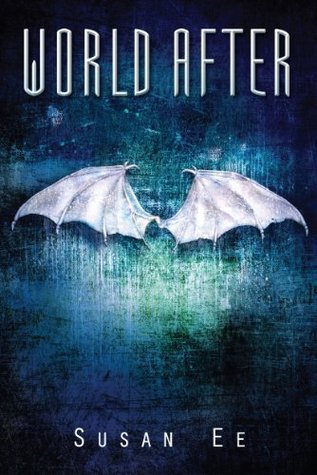 Book Blurb
: In this sequel to the bestselling fantasy thriller, Angelfall, the survivors of the angel apocalypse begin to scrape back together what's left of the modern world. When a group of people capture Penryn's sister Paige, thinking she's a monster, the situation ends in a massacre. Paige disappears. Humans are terrified. Mom is heartbroken. Penryn drives through the streets of San Francisco looking for Paige. Why are the streets so empty? Where is everybody? Her search leads her into the heart of the angels' secret plans where she catches a glimpse of their motivations, and learns the horrifying extent to which the angels are willing to go. Meanwhile, Raffe hunts for his wings. Without them, he can't rejoin the angels, can't take his rightful place as one of their leaders. When faced with recapturing his wings or helping Penryn survive, which will he choose?
My Review:
5 Out Of 5 Stars
Genre: Angels, Dystopian, Supernatural, Survival--
Book 2 in the series picks up right where book 1 ends, with Penryn paralyzed in the back of the resistance van, her sister Paige experimented on and not quite right and Raffe with his demon wings thinking Penryn is dead. Penryn joins up with the resistance, but when her sister ends up attacking someone, she must make a hard choice about what and who she wants to fight for. This is not a standalone book, it is book 2 in a trilogy and there is no back story so book 1 Angelfall needs to be read first (and it should be read anyway because it is awesome) for the complete story. Book 1 in the series completely blew me away. I thought about it and talked about it non-stop for over two years, anxiously waiting for the sequel I knew would come. I forced everyone to read it, and they were all as enthused about the book as I was. So to say that the bar was set pretty high for book 2 may be putting it mildly. I have been wanting to read this book for years, but when I finally got the chance after it was released, I was hesitant. What if it was not as good as I hoped? It took months for me to work up the courage to read World's After. Happily, I can report that I was not let down even a little. The world and the characters are well developed, with people I root for and with things I could not even imagine come alive. This is hands down a solid companion to the first book. Penryn is such a great character. She is tough, smart, resilient, and emotionally strong. She is aware of her flaws and weaknesses, yet she still pushes on and is so very realistic about everything, including where she stand with the angels and her survival odds. I appreciate how the author creates a believable 17 year old girl equipped to survive this world, based on her family dynamic and her martial arts training. This is no ill-prepared girl who magically kicks butt, but a jaded girl who grew up quick and has been on her own for a long time. This book was pretty much her journey to finding her sister and learning how to fight with a sword as the Angels ultimate plans come to the surface. The last book was her and Raffe traveling together, but this one was her alone for the most part. There was a little bit more of Penryn's back-story introduced here as well as reasoning for how Raffe is. Raffe did show up a few times, especially at the end. I don't remember him being so upfront about his desires or him being so flirty, and it caught me off guard. I was expecting the silent, standoffish angel, but that was not quite what he was here, which I found interesting. Those pesky daughters of man, causing problems again. I was glad to see that the horror level still existed here because that was one of my favorite things about the first book. We have evil experimentation on children and a massive army of scorpion like creatures from unknown origins. Both equally creepy. Add in Alcatraz for a new level of awfulness based on its history alone and with the new use makes it even worse. There were a lot of dark elements that the author creates to help set the stage and create fear, and I loved every horrific visual I was presented with. Yet again the author ends the book with me needing more. I enjoyed how the title of the book played into the story repeatedly through Penryn's eyes. I can't wait to read the third book and see how this apocalypse plays out. Susan Ee came out of nowhere a few years ago with her book I literally stumbles across and now she is published and tons of people know about her and I completely understand why. She is a stellar author and I look forward to whatever she wants to create next.