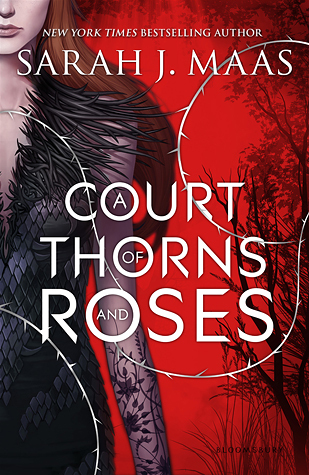 Book Blurb:
A thrilling, seductive new series from New York Times bestselling author Sarah J. Maas, blending Beauty and the Beast with faerie lore. When nineteen-year-old huntress Feyre kills a wolf in the woods, a beast-like creature arrives to demand retribution for it. Dragged to a treacherous magical land she only knows about from legends, Feyre discovers that her captor is not an animal, but Tamlin—one of the lethal, immortal faeries who once ruled their world. As she dwells on his estate, her feelings for Tamlin transform from icy hostility into a fiery passion that burns through every lie and warning she's been told about the beautiful, dangerous world of the Fae. But an ancient, wicked shadow grows over the faerie lands, and Feyre must find a way to stop it... or doom Tamlin—and his world—forever. Perfect for fans of Kristin Cashore and George R. R. Martin, this first book in a sexy and action-packed new series is impossible to put down!
My Review:
5 Out Of 5 Roses
Genre: Another-World, Faeries, Romance, Royal-Court, Supernatural--
Feyre and her family are barely surviving the winter, only able to go on due to the animals Feyre hunts in the woods. While out hunting, Feyre kills a large, unnatural seeming wolf. When a large beast shows up at her door, Feyre willingly exchanges her life to the beast in return for her ungrateful family members' safety. Feyre is brought to the Faeries Spring Court, ruled by High Lord Tamlin, to spend the rest of her days. But all is not as is seems and a blight is on the Faeries, weakening their power. Feyre must choose what side she will fight for and what she is willing to sacrifice.. I saw that this got mixed reviews before I started reading it, so I was a little hesitant. I absolutely love Sarah Maas's Throne of Glass series, so I was willing to give this a try, especially when I saw this was loosely a retelling of Beauty and the Beast. I love Beauty and the Beast and will devour anything related to it, and yes, this had small tributes here and there to tie it to the classic fairytale, but it was unique enough to not get caught up in the expected. That being said, Oh my Geez, I loved this book! I did not want to put it down, and when I did, I thought about it constantly. Everything about the story was so freaking complicated, be it the plot, the worlds, the characters, the court intrigue... I was so wrapped up in the nuances of the story that I couldn't help but to love the words that I read. This was not a happy, rose-colored glasses book, but instead a look at survival and despair and what it takes to save the ones you love, with a few moments of happiness and passion thrown in for flavor. I love books with Faeries. Beauty and the Beast meets Faeries? Um, yes please. The world that Maas brought to life was filled with all different types of creatures, be it the High Lords who are the most beautiful interpretation of man possible, to the naga and shadow creatures that are filled with nightmare images and screams, and all the lower fey in between. I am intrigued by how faeries are a mix of the best and worst, from beauty and grace, to selfishness and bloodlust, devoid of any humanity as we know it. I kept trying to find a connection to the fey or world from the Throne of glass series, but alas I couldn't piece anything together, which made me sad on one hand because I wanted the worlds to mesh, on the other hand I was impressed by how the author could create 2 very different worlds that I can totally get lost in. And the thing that makes me the happiest is that there was romance in this book. No it was not over the top, in your face sex, but instead a slow build of feelings over the course of most of the book until I was ready to burst with the desire for the characters to be together. No insta-love here, and no love triangle. I was so involved in their struggle against happiness that I was on pins and needles to see how everything would play out, especially when I knew there is a second book in the series coming out. What if I don't get a happily ever after? How will I be able to cope? These thoughts circled my brain while I was reading, but I pushed on in the face of my fear because I could not have done anything else. The ending just caused more questions and a burning need to know what is going on with Feyre that is hinted at but not addressed. I thought Feyre was an interesting character, full of sharp edges and the will to live, and completely aware of her flaws. She wanted those she loved to survive, regardless of how they treated her and her own fate, yet she saw beauty all around despite hardships. I liked how she was realistic and able to forgive Tamlin his "sacrifice" with another for the greater good of the Spring and understood the mixture of feelings Lucien had towards her. She was an old soul in a young body. And Tamlin, he was so dreamy, I wanted to keep him for myself. I loved his mix of protective instincts, emotional shapeshifting, awkward social skills and raw maleness. He was the perfect companion to Feyre, the yin and yang so to speak even though they had much in common they still balanced each other out. As a side note, I absolutely loved Rhysand. Yes, yes, he is the villain and does evil things, but I sense a different side to him and I am intrigued. He had many opportunities to cause physical and emotional pain and he opted not to, which says a lot to me about who he really is. I can't wait to see more of him in the next book. Pretty much, I realized that this review is a tribute to how much I love Maas. Her books are shelved in teen fantasy, but I would not call them teen except for the fact that the main characters are in their late teens. Nothing in the books is juvenile, from characters, plot and sexual encounters. I can't wait to get swept up in the next installment in this series, and I need it now. I received this title from the publisher in return for my honest opinion.