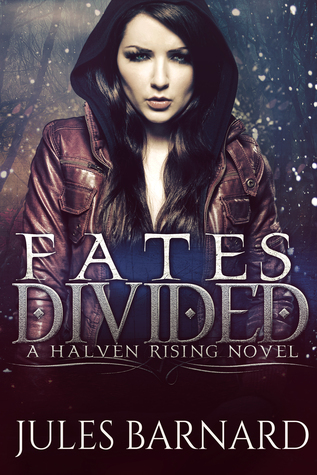 Book Blurb:
Elena Rosales has busted her ass to get into a good college. She's the only one in her family ever to attend, and expectations are high. No pressure. But Elena's got this one in the bag, because she's as dependable as the molecules she studies, as reliable as the chemical reactions that comfort her in their predictability. Until they don't. Elena has always wondered why her mother abandoned her on her first birthday. It's not until she turns eighteen and her chemistry experiments go berserk that she learns the truth: Her mother wasn't human, and the Fae are willing to harm those Elena loves if she doesn't use her power over the elements to cure them of a deadly disease. Derek, Elena's brooding neighbor, isn't the friendliest guy, but he has access to an off-hours lab and is willing to help Elena create the antivirus. He has his own secrets to keep, and this business Elena is mixed up in could blow his cover. But when Elena and Derek get together, more than chemicals spark fire—and they soon discover just how complicated attraction can get when they find themselves on the other side of the portal, fighting for survival. Lives collide, and allegiance and love are tested, in Fates Divided. ----- In the Halven Rising Series, love and ancient allegiances are threatened when the worlds of Fae and Halven collide. Each Halven Rising novel features a different couple and may be read as a standalone, but an overreaching story arc connects the books, so it's fun to read them in order.
My Review:
3 Out Of 5 Fairy Wings
Genre: Another-World, Faeries, Royal-Court, Supernatural--
Elena is in her first year of college when something strange happens on her 18th birthday. During her chemistry lab, her mix boils without any heat. Elena is slightly freaked out, but decides she needs to test this scientifically, since she is a scientist after all. When her tests confirm that she is responsible for the boiling, Elena tries to hide the truth. But it seems that others have noticed her and her gifts and want to use her for their own purposes. Add in her hot yet mysterious (and grumpy) neighbor Derek, and Elena has no clue as to what is up anymore. I have read all the books in the Blue Series by Jules and absolutely loved them. When I saw that she had a new book out and that it had a supernatural theme, I was incredibly intrigued. I had only read New Adult from her before so I really wanted to see how this would play out. I think this could be considered New Adult meets paranormal fantasy. There is some growing up/accepting who you are, some romance, some turning invisible, some blowing stuff up, oh and yeah the Fey. In case you were wondering, I love me some Fey. The story alternates between Elena and Derek's point of view, making them both the main characters. I do like how they were antagonistic at first sight, and that animosity turned into a hot spark they did not try to hide. What I did not like was how both would make choices for the other out of "the greater good" without any consulting as to what the other person really wanted. I hate when people makes choices for others well-being without communication and it drives me insane as a plot device in books. Yes, it is my personal hang—up, but there you go. Another thing that I found to be incredibly awkward was when Derek used his powers to make them both invisible. They had to be making out and him carrying her, and then he would run around with her in his arms. I thought it was strange and it kinda sorta killed the romance (for me at least, and it was a small reminder of another popular series I am not a fan of where the strong supernatural male carried the female around like a "spider monkey", but whatever). Let's also mention the fact that Derek almost gets raped and Elena is mad at him because it made her feel insecure about herself. Regardless of my complaints, I liked both characters and I really liked them together. As a side note, the other characters were really well developed and I felt like I knew them as people. I absolutely loved Keen and Reece and wonder what will happen there, and Mateo is also kind of fun. There is a lot of potential for more in the future from this series. My favorite parts of the book were the random bits of real life awkwardness that the author does so well. For example, Derek and Elena's cousin Mateo have a male bonding moment over food and the understanding of attraction. I know the focus of the book is on the Fey and supernatural gifts, which are subjects I absolutely love, but the best parts of the story have nothing to do with that. I like the characters that the author creates, they feel like real people that I know and can bond with. Jules is just really good with the "real" stuff. I liked the idea of the Fey and other dimensions and Halven, but at times I caught myself feeling overwhelmed and disconnected from the story by details of the other world and Elena's transmutation experiments. I was also a little surprised when the college aspect took a backseat to the book when it was originally the main focus of the story and the characters. The plot pacing did pick up and I became absorbed in the Fey world full of powers, deceit and death. I do like this author's writing style and characterizations and I look forward to more from this series and whatever else she wants to write. I received this title from the publisher in exchange for my honest review.