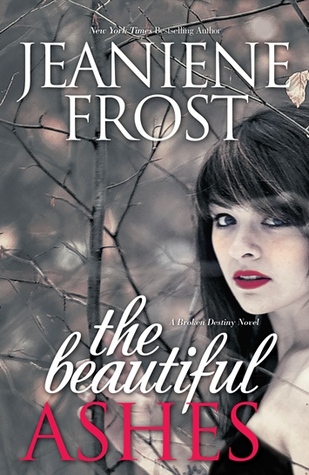 Book Blurb:
In a world of shadows, anything is possible. Except escaping your fate. Ever since she was a child, Ivy has been gripped by visions of strange realms just beyond her own. But when her sister goes missing, Ivy discovers the truth is far worse—her hallucinations are real, and her sister is trapped in a parallel realm. And the one person who believes her is the dangerously attractive guy who's bound by an ancient legacy to betray her. Adrian might have turned his back on those who raised him, but that doesn't mean he can change his fate…no matter how strong a pull he feels toward Ivy. Together they search for the powerful relic that can save her sister, but Adrian knows what Ivy doesn't: that every step brings Ivy closer to the truth about her own destiny, and a war that could doom the world. Sooner or later, it will be Ivy on one side and Adrian on the other. And nothing but ashes in between… My Review: 4 Out Of 5 Snowflakes

Genre: Supernatural, Angels, Another-World, Royal-Court--
Ivy's willpower alone is what is keeping her going after the events of the last week. Her sister is missing and sent her a desperate text for help, causing her parents to go in search of her just to have a fatal accident. Ivy is determined to find her sister now and will stop at nothing, willing to use her secret visions which she always thought were delusions. When the mysterious Adrian kidnaps her and claims to want to help, Ivy is not sure what to do. I love Jeannine Frost books, especially the Night Huntress Series with Cat and Bones. I was excited to get my hands on the first in a new series because I knew I would get interesting characters, action, a new supernatural world, some romance and heaps of angst. I am always lured in by Angel stories, but I usually find myself disappointed at the end. There has only been one Angel series that I liked, but I keep giving them a try. When I discovered this was about said Angels, I was excited yet a little nervous of how everything would play out. That being said, Frost creates such a unique world with demons and Angels and the unsuspecting stuck in the center. I was impressed by how detailed Frost really is. Not only does she alter the world we currently live in to have a war between Angels and Demons, but she creates a Hell realm. And not just one Hell realm, but tons of them, and each one is unique (and super scary). The worlds are the opposite of the fiery image usually reserved for demons, but instead if it hypothermia inducing cold, with humans being kidnapped to be used as either, slaves, sexual toys or food. I loved how the demon realms were always present, but most people could not see them, instead living their lives in bliss as people went missing all around them for nefarious purposes. I can honestly say that I have never read anything exactly like this before and I was not disappointed. I was not sure what I was getting with Ivy. Here is this college girl who has no survival skills, parents newly dead with a missing sister, and she has a history of mental illness. She kind of sounded like a hot mess with the potential to be a liability more than a help. But then during the course of the book, she turned into a strong female character that I could totally back. She was capable and picked things up quickly, ready to fight even if it meant that she would die. The moral of the story here is that she was resilient, and I rooted for her. I thought the idea of being glamoured by the Angels was interesting, but at the same time sad for Ivy since she could never reveal her true self. What I didn't like about her was that she was gung-ho for a relationship with Adrian regardless of the prophecy and Adrian's behavior, willing to throw herself incompletely regardless of the outcome. Yet, then she feels betrayed by him when things play out the way he told her they would and she refuses to forgive him despite everything. She was a little irrational, in my opinion, when it comes to her feelings towards Adrian. Overall, I found this to be a good creative book with a brand new world that is just starting to unfold and I can't wait to see where it will go next. I loved Frost's take on the war between good and evil and how she interpreted biblical/historical events to bring this story to life. I received this title in exchanged for my honest review.