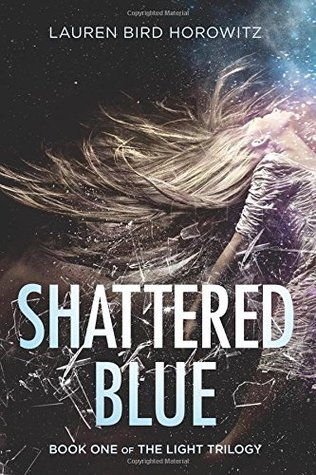 Book Blurb:
For Noa and Callum, being together is dangerous, even deadly. From the start, sixteen-year-old Noa senses that the mysterious transfer student to her Monterey boarding school is different. Callum unnerves and intrigues her, and even as she struggles through family tragedy, she's irresistibly drawn to him. Soon they are bound by his deepest secret: Callum is Fae, banished from another world after a loss hauntingly similar to her own. But in Noa's world, Callum needs a special human energy, Light, to survive; his body steals it through touch—or a kiss. And Callum's not the only Fae on the hunt. When Callum is taken, Noa must decide: Will she sacrifice everything to save him? Even if it means learning their love may not be what she thought?
My Review:
5 Out Of 5 Hearts!!!

Genre: Another-World, Faeries-- Noa's family is shattered after her older sister Isla's death. Noa puts on a happy face, but inside she is a mess, the only solace she finds is when she takes care of her baby sister Sasha. When school starts up again, Noa feels herself slipping away, not focused on anything because nothing matters anymore. That is, until he shows up. Callum is a new student, incredibly attractive and mysterious, who appears to want nothing to do with her. Noa feels a pull to him regardless of his standoffish attitude, but he hides a very dark secret that could destroy Noa and those she cares about. Oh my God, this book! I feel like I went through an emotional roller-coaster and I would not trade it for the world. I read this book in a day because I could not help but continue, there was no way I would put it down I was so wrapped up in this story. My ereader said there was 320 pages total but it felt like so much less because the writing flowed so smoothly and it was a gift to read. I know I sound a little love struck, but I can't deny that that may be the case. This is hands down the best book that I have read in a long time and it caught me completely off guard. I am in no way disappointed or let down by this book. I was not certain what I had started reading really, expecting a star-crossed lovers story, but really this was so much more than that, I feel like that was not even the main issue of the story. The book deals with loss and pain, betrayal and trust, family dynamics and otherworld politics as well as the start of love and truths. Oh and did I mention Fey? I love Fey! Sigh, I wish I could read this book for the first time again, but alas I will just have to think about it obsessively until I can get my hands on the 2nd book in the trilogy (which let me mention has no synopsis and no release date yet which hurts my heart). I don't want ot give too much away about the plot so I will mention just a few things about the story that stand out to me. It appeared after reading the synopsis that this was a love book, and it kinda was, but not so much the romantic love but the familial love of sisters and that bond that will never break. The love that Noa felt and continues to feel for Isla and the bond that she shares with her baby sister Sasha as well as the love brother's Callum and Judah had towards their sister Lily. It was sweet and heartbreaking at the same time. On a side note for that, I have so many questions about the "ghost" of Isla. Is she real, a figment of Noa's imagination? I have no idea but I need to know. Noa's character is a poet, writing down emotion based poems that are her best way to express herself when she closes the world away. To reflect that poetry idea, the author's writing style is very poetic also without being overly so, with smooth, flowing writing and interesting phrasing that had an almost musical quality to it while I was reading. And to briefly mention the romance of the story, there is a love triangle here, which I normally hate, but I am willing to except it in this scenario. But to be honest, I know who I love and who Noa needs to pick for his and my own sanity. The triangle is between brother's which I am sure makes it tricky, but my heart belongs to one boy who I will not name in case of spoiling something, and I would be so upset if he is not her choice when his love and personality is so very honest and true. In case my love is not clear, I love this book and will pine away until I can get the next book. This story was beautiful and messy and needs to be read so anyone who likes love and intrigue and especially faeries needs to read this. I received this title in exchange for my honest review.